Analysis of the 10 Fastest-Growing Pet Brands on Instagram in Q1/Q2 2023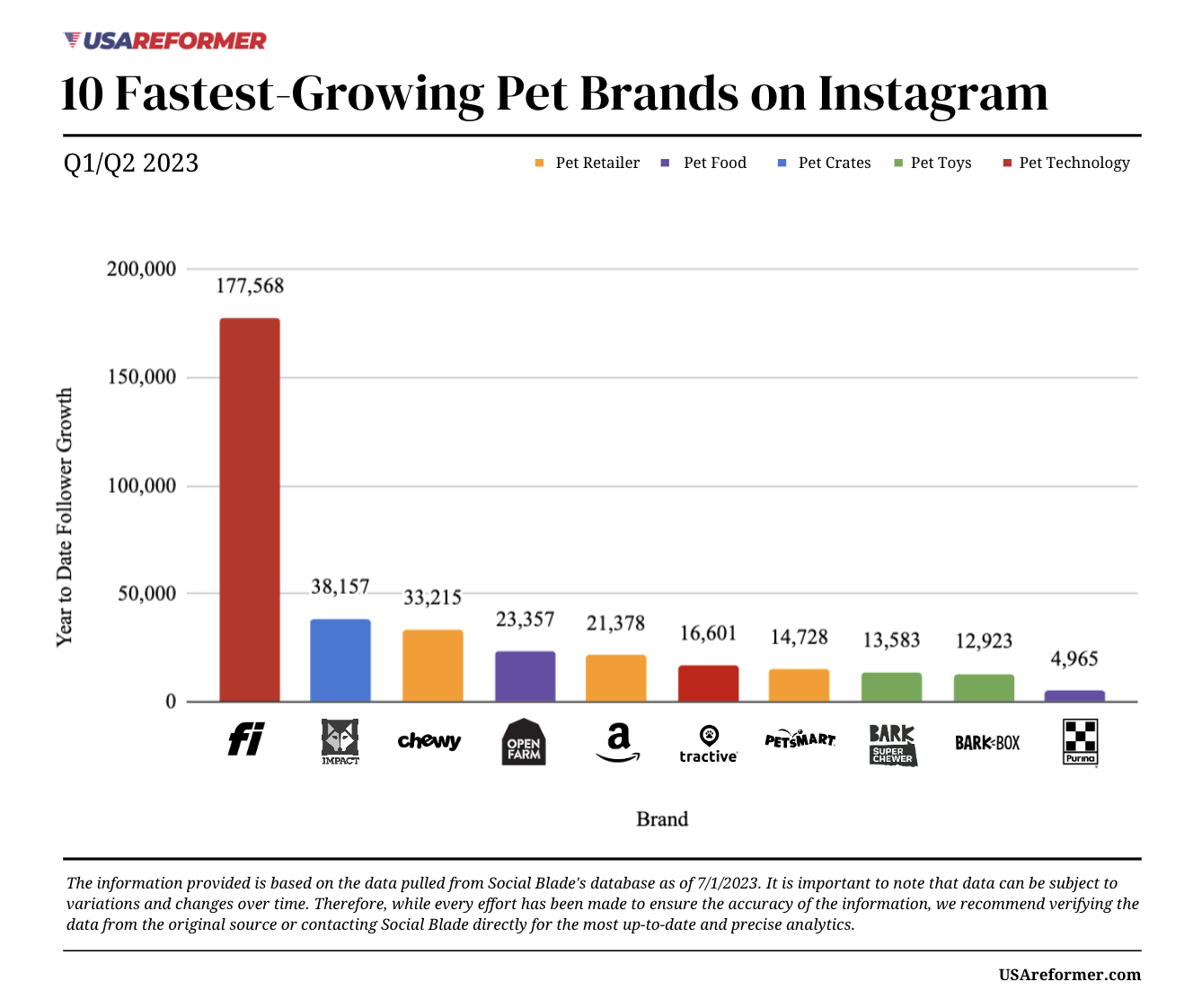 The pet industry has seen a surge in popularity in recent years, and with it, the importance of having a strong social media presence has become increasingly apparent. Brands that are able to engage their followers with creative content and a consistent message have seen exponential growth in their social media following, leading to increased brand awareness and sales. Here are the 10 fastest-growing pet brands on social media in the first half of 2023:
Fi, @fi.dogs –

177,568

followers gained 
Impact Dog Crates, @impactdogcrates –

38,157

followers gained 
Chewy, @chewy –

33,215

followers gained 
Open Farm, @openfarmpet –

23,357

followers gained
Amazon Pets, @amazonpets –

21,378

followers gained 
Tractive, @tractive –

16,601

followers gained
PetSmart, @petsmart –

14,728

followers gained
Super Chewer, @superchewer –

13,583

followers gained
BarkBox, @barkbox –

12,923

followers gained 
Purina, @purina –

4,965

followers gained
According to a recent analysis of the social media following growth of several prominent pet brands during Q1/Q1 2023, Fi emerged as the top-performing brand. They gained 177,568 followers, representing a growth of 49.62% relative to their total followers of 357,793. Impact Dog Crates also showed an impressive growth percentage of 23.73%.
As the pet industry continues to grow, a strong social media presence is becoming increasingly crucial for pet brands to stand out and connect with their audience. This analysis underscores the importance of a comprehensive social media strategy for pet brands looking to stay relevant in a rapidly evolving digital landscape.
The information provided is based on Social Blade's database as of 7/1/2023. It is important to note that data can be subject to variations and changes over time. Therefore, while every effort has been made to ensure the accuracy of the information, we recommend verifying the data from the original source or contacting Social Blade directly for the most up-to-date and precise analytics.