US VETERAN KOREY SHAFFER'S COMPANY IS REFORMING AMERICA AND HOW WE REMEMBER OUR FALLEN HEROES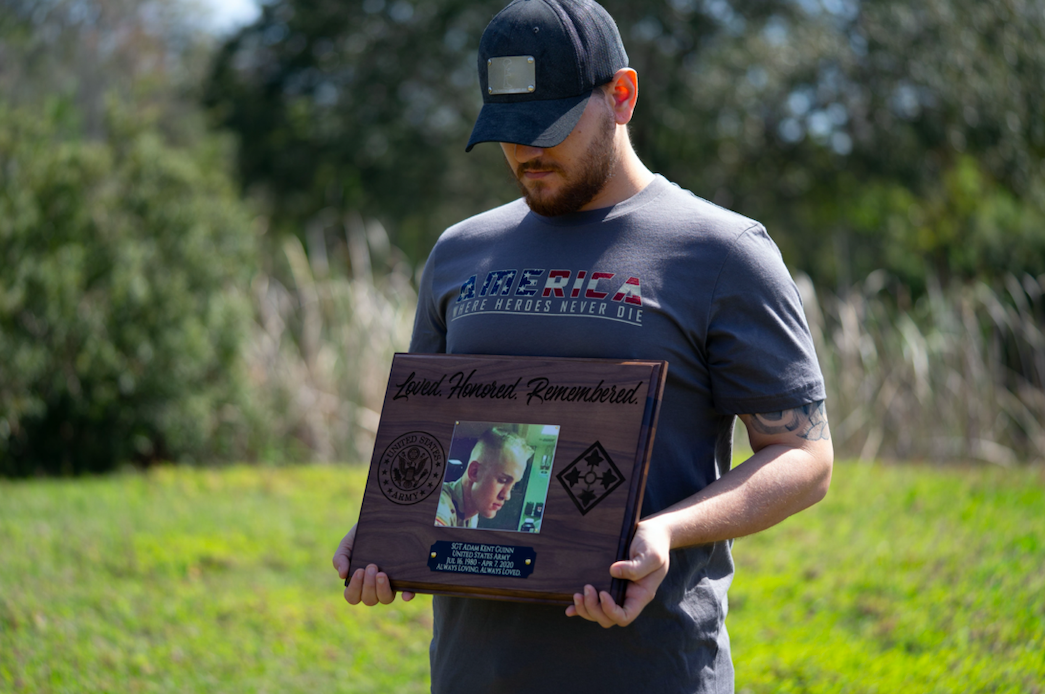 His company was built on remembering those who have given their lives either at war or on the frontlines, and with 2021 being a massive success, Korey Shaffer and Til Valhalla Project, are now upping their production for the year ahead in 2022.
The Til Valhalla Project is a company that sells products and with the money they make they create memorial plaques for free for those families of the men & women who are no longer here and gave their lives to make our country/world a better place.
While it was a struggle at the start for Korey, who originally came up with the idea of memorial plaques when trying to honor a fallen brother of his, but after word caught on over time and he saw the emotions these plaques brought to the families, his dedication and hardwork has helped scale his company to a great extent.
Korey and his team have been doing amazing things and reforming the lives of many across the United States, and so we spoke to him more in-depth about his company, working through the pandemic and what's next!
1. What are you most proud of with your company Til Valhalla Project?
What makes me proud is the number of families who have received plaques anonymously delivered to their doors and the 200+ Veterans we have been able to put through therapy.
Every day we get messages about another Veteran's life saved and another Hero honored. Also, how my team has grown into the mission and made it their own. They are the heartbeat that makes this all happen.
2. How have you had to innovate and get more creative during the Pandemic?
The Pandemic was less about innovating for us and more about standing our ground to maintain integrity. Every chance people had, they were selling masks, making dozens of Covid related shirts, and finding any way to capitalize on the issue.
That, and the rules that were put in place by the government, made it damn near impossible to operate efficiently with distancing. Still, we found and created ways to give people a value that wasn't dependent on bringing attention to Covid.
We had to maintain brand integrity, remove anything related to covid and operate within the guidelines, even if it meant being inefficient.
3. What happens when someone signs up for the T.V.P. Club?
Our Elite Membership is a T-shirt subscription service that has the best designs, and impacts our mission the most. Every Elite order comes with a shirt, a matching sticker, a magazine showing all of the fallen Heroes that your subscription helped honor that month, and sometimes, a special gift.
Those T-shirts are unique to members only. The monthly shirts, along with the magazine, cannot be purchased anywhere else.
4. What trends within your industry do you see happening as we go forward into the new year?
Getting into politics seems to be the new norm – with social media raising their "quick to ban" mentality, everyone is capitalizing on politics more than ever.
Also, this year was a big test for all brands. Everyone seems to blur the lines of marketing with Pre-Black Friday, Extended Black Fridays, Cyber Monday, Giving Tuesday…etc.
While most seem to be racing to the bottom line for the customer, our goal is to stay true to the mission and let people know that if we want to honor Heroes and pay for Veterans' therapy, we can't race to the bottom line. Therapy doesn't have Black Friday deals.
We will stand our ground and maintain our integrity to make T-shirts every fallen Hero would be proud of.
5. Being a Veteran, what advice would you give other Veterans looking at succeeding post-service?
The best thing a Veteran can do is realize and get ahold of their emotions immediately out of service. If you don't do that, life will be a rollercoaster.
Understand that you're going to feel alone. A lack of value; like your service defines you. But it doesn't. The best parts of your life are still ahead, and you need to be more open about your emotions versus trying to hold back.
Have humility in everything. And once you have gotten ahold of your emotions, focus on serving in another capacity. Either find or create another way to serve that can help you hit your personal goals (Houses, Cars, Kids, Travels) and makes you happy. You were proud to serve others in the military – why stop?
6. What's next for you and T.V.P.?
Our next move is getting a 100k sq ft shop. The goal is to honor over 1000 Heroes a month with memorial plaques, $5 Million in donations for Veterans therapy, and to employ over 300 Veterans and patriots to help make this happen!
7. In your opinion, how has T.V.P. helped to reform America/Americans thus far?
We have broken the mold of what a traditional clothing brand does. Raised the bar. We gave this country something to look up to and helped millions of people understand how frequent veteran suicide occurs.
Thousands of people have delivered plaques and had the chance to spread that joy with millions of others.