This Acting Couple Are Reforming The Entertainment Industry in America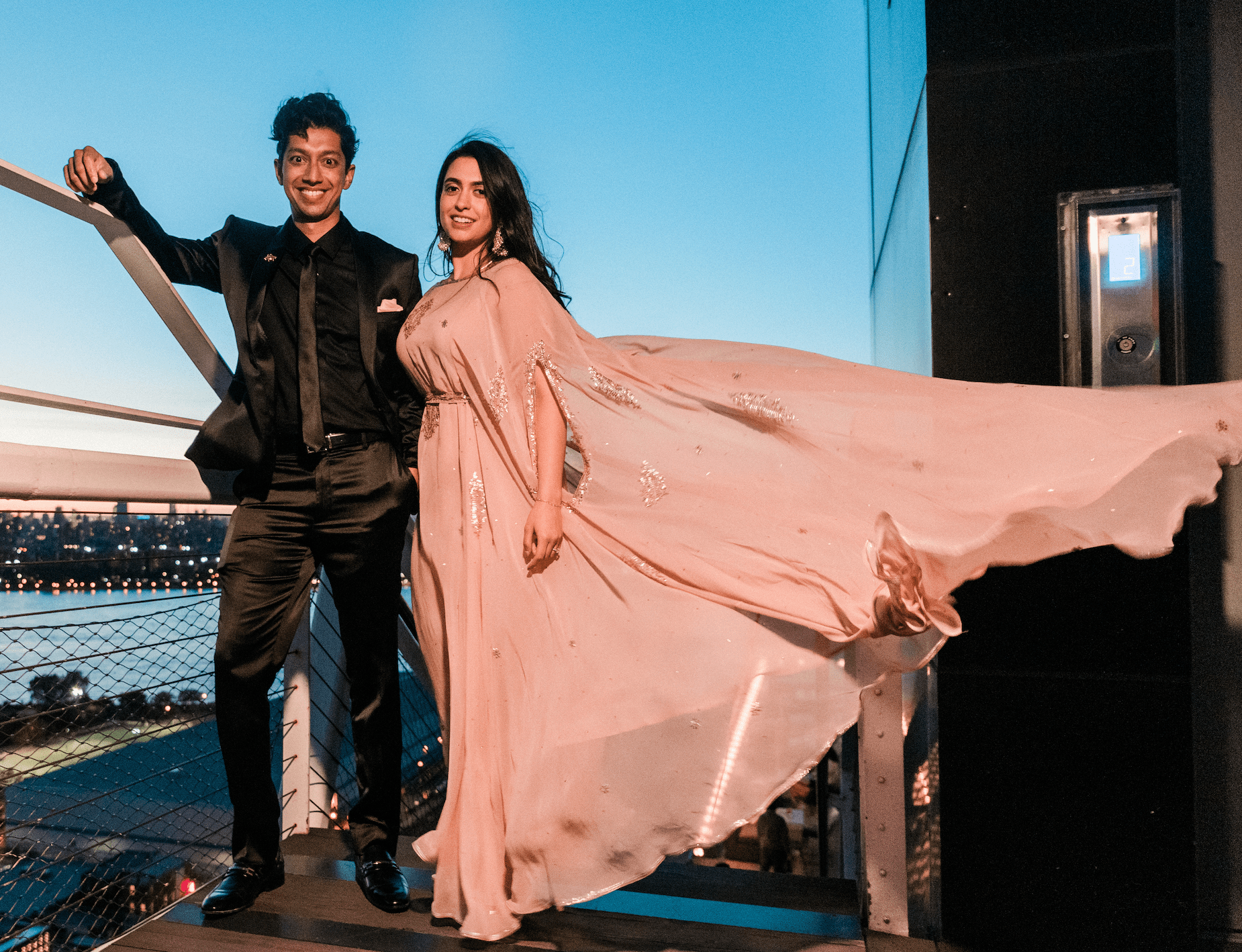 When Brinda Dixit and Adit Dileep met on the set of an Amazon TV pilot back in 2017, little did they realize at that time that their courtship of each other would help reform an industry in America that hasn't always been so open-minded to Indian actors.
The Indian descent duo who have been featured in Hallmark movies and on hit shows like Law & Order, Succession and Billions, have used their acting skills and voices to help change the entertainment industry in showcasing more people like them from India and/or Indian American on-screen in non-stereotyping roles. 
We spoke to them both about their lives together and how there is still lots of room for change and more diversity moving forward. Oh, and they even talk about being the first couple ever to gift their wedding guests NFTs! 
1. Why did you each decide to go into the entertainment industry? 
They say it's easy to give a good performance when what you're saying is actually true. We both found our journeys to being actors in such different ways. Adit forged his path making videos in between getting good grades, MC-ing for Bollywood Dance shows in New Jersey. Brinda grew up performing Shakespeare at Children's Fairyland in Oakland to mastering the art of Indian Bharatanatyam dance growing up near the Bay in the West Coast. If we never became actors, we might never have met each other! And now we're more than just actors, evolving our skill sets in writing and producing, all on the path to bring inspiring stories to screen and to the stage.
2. What has been the hardest thing about being an actor you find?
We all know what it feels like when you want something so bad, and you can't let it go. That's what it feels like sometimes auditioning for those dream roles, so many that seem like "a perfect fit." It can be devastating to get to the final round and not have it go your way. Like your favorite sports team getting all the way to the final only to lose. It's the game, and we're all players in it. We have to always pick ourselves up for the next opportunity because it usually comes when you least expect it.
3. As a couple, is it harder or easier to be in the same industry as your partner?
Behind the scenes, it's really special that we have each other for support. This industry can be savage, and the competition is fierce, friendships are always tinged with competition, so we're so grateful that there is nothing but love, support and encouragement for each other. In our eyes, any win for our partner is a win for us all. On the other hand, the hard part of being in the same industry together is that in front of the camera, each of us has a deeply unique journey that we have to go through individually, no matter how much support we have. Acting means being vulnerable, and exploring your vulnerability without judgment to get to the truth of the relationship. In order to be vulnerable, we have to be honest with ourselves and with each other, which is sometimes easier said than done!
4. How has the pandemic shifted or changed the way the entertainment industry is run/handled? 
The biggest shift for actors is the transition to self-tapes vs in-person auditions. But that has its pros and cons: Imagine you're dating someone: are you gonna get to know them better over FaceTime or in person? That's the struggle that no one's really talking about: while it's great to be able to self tape for auditions from anywhere, the face to face magic and unexpected moments, what felt like "winning the room," in the past, is a much more sheltered and closed-off process now. Here's hope that in time, the industry strikes a good balance of self-tapes and in-person sessions.
5. You are both strong advocates for more diversity in film/TV. What trends have you been currently seeing? What more can be done in your opinion? 
This is a good question! People ask us when we meet them, "Doesn't streaming mean more opportunities?" Our experience though, has been that while people watch a lot more content on streaming, the actual streaming networks are less likely to take risks with newcomers.  "Mid-budget films" and TV shows starring unknowns were how greats like Mark Duplass, Mark Ruffalo, and Anna Kendrick and Aubrey Plaza cut their teeth and found their audience. 
We all know that diverse actors are typecast. This is old news: but what if you're mixed race and can't really be "typed?" What if you're too American to be the Indian doctor but too Indian looking to be the traditional girl next door? That's the struggle Brinda's been having to overcome in her career – not looking like one specific "type" sometimes means getting seen for more than meets the eye. While producing our own work, we're putting an emphasis on diversity in characters and craft, working to surprise audiences with more than meets the eye.
6. What advice would you give to others wanting to pursue acting as a career?
If you feel a calling to be an actor, you have to honor that feeling! Trust yourself, your body, and what it tells you. Nike kind of hit it with the "just do it" slogan, because you'll see if it's worth sticking around. As with any industry, there's the fun work and the tough work, and it's about how much passion you have to do both! When we grew up, we were discouraged from dreaming big, but life is all about the hide and seek of it all!
7. Beyond acting you have both gotten into the NFT space. Tell us more!
We knew nothing about NFTs, so we asked ourselves, what's the best way to learn? Why not make one, and give it meaning? We were always interested in crypto, and NFTs were a really cool concept to come out of crypto that had real-world impact for us. Specifically, with music, movies, and storytelling. We experimented with all three by making our NFT drop during our wedding reception at Terranea in Los Angeles, airdropping it to all of our guests and premier-ing it on LED screens live. We got the aunties and uncles hype! Built in artist residuals, and in the event that we become really famous and our NFT is worth millions of dollars like the Bored Apes, they'll get a cut!
8. What's next for you both from here? More shows? More NFTs? 
We're looking at purchasing new NFTs for our collection: eyeing those Kanpai Pandas on the dip. We're also building in more treats into our NFT, and thinking about our next one!  As actors, we've got a comedy we're producing and a few exciting things coming down the pipeline this year that we hope to talk about soon!
9. Why are you both proud to now live and work here in America, and be American?
Brinda's Dad proposed to her Mom in a Pizza Hut, and if that isn't the American dream, I don't really know what is! But seriously, America is this beautiful melting pot of cultures and communities and people – that's what makes it such a vibrant and diverse place to be. Especially living in New York City, at the drop of a hat, you can find people from practically anywhere in the world and authentically experience new languages, cuisines, and traditions. It can be tough when people try to stereotype you because of your ethnic background, when you're made out to feel not "American" enough. But when you really think about it, the traditional definition of what that means, being American, really is a country of people who, at some point in their lives or family histories, have taken a leap of faith to get a better life. And nothing brings more people together than a shared vision.
10. How do you feel your own careers have so far helped to reform America?
Well, there's a whole new generation of Indian American artists who are being cultivated, and we believe a lot of the rejections and stereotypes we've battled over the last few years can pave the way for brighter futures ahead. You're welcome, future brilliant creators! 
In all seriousness, we truly believe stories can indirectly transform people's lives by shifting their narratives, inspiring change, and motivating action. That's the juice that keeps us working behind the scenes to help others find where they truly belong.