Reforming Lives In America: Maya Comerota And When Love Speaks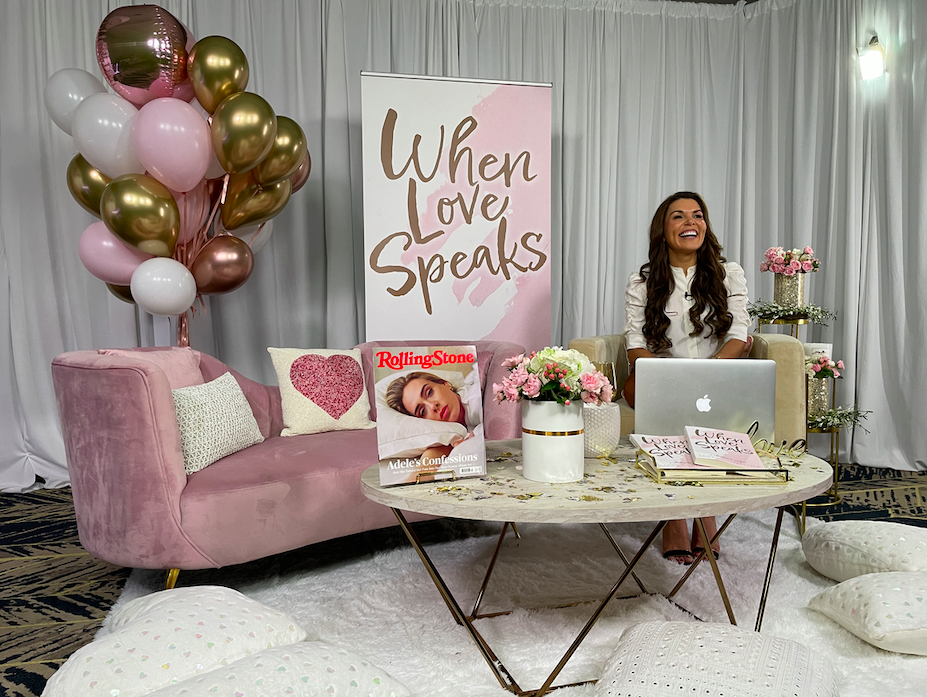 Best-selling author, motivational speaker and life coach Maya Comerota has set out to help transform the lives of Americans she comes in contact with, whether it be through her courses, her talks or her new book When Love Speaks.
She is all about reforming lives and helping people turn their purpose into passion and prosperity, and we caught up with her to learn more and reflect back at 2021 and what is to come in the new year ahead… plus her upcoming transformational educational platform!
1. What are you most proud of this year?
I am most proud of supporting so many people to be able to share their unique gifts and talents with the world.  I believe that every one of us has a gift inside of us that is longing to be shared and that is why we were created; to share this gift with the world. I love supporting people to unlock their gifts and share them confidently, boldly and powerfully to create a life they absolutely love! 
2. How have you had to innovate and get more creative during the pandemic?
During the pandemic everything changed.  People lost their jobs, we couldn't meet or gather in person.  People were getting stressed, losing money, losing connection with others.  We needed a solution.  I created online solutions to build world-class communities of people supporting one another, leaning into their strengths and talents.  Uncovering and unlocking their unique gifts and talents to thrive during a time when many people were struggling.   During the pandemic, I launched three new global personal leadership events and an international best selling book to support and inspire the world. 
3. What is the process for someone to work with you?
The process to work with me typically includes attending my 3 day live event Born For This Live and joining my Elite Coaching Community.  Those who have been working with me for a while will typically join my Living Legendary Mastermind and for a select few after an in depth interview we can work one on one together.  It is an investment to work together. Each person invests time, money, heart and courage to do the work together for a year and typically much longer.  Most of my communities love to stay together.  The work is transformative and everyone loves the results that they get.  My promise is 100% of my clients cross the finish line 100% of the time.  That's not a platitude. It is a promise.
4. What trends within your industry do you see happening as we go forward into the new year?
Self education is a big new trend in the coming year.  People want to learn from people who have come before them.  Education is changing.  People more and more want to be free and live fulfilling lives.  They are looking for all the ways to do that.  People are recognizing more and more that they desire freedom and they are looking at all the ways that they can acquire that freedom.  Additionally, since the pandemic, there are a lot less barriers to gaining knowledge and education.  You do not need to leave your home in order to get the best of the best education.  It is at your fingertips!  This is exciting for what is to come!
5. You were able to find your 'purpose' after a near-death experience. For those that haven't had that "moment", what advice would you give them on figuring out their path?
In my Elite Coaching programs I have each person consider, if your life were over tomorrow, who would you want to be? What would you want to do? What would you want to share with those you care about? You don't know if you have tomorrow but we do know that you have today.  So live today as if you don't have tomorrow!  Do the things you would love to do, share the important things you would love to share.  It doesn't need to take a car accident or a near death experience to have a new perspective on life.  Your legacy is not meant to be left, it is meant to be lived.  Go live your legacy today. 
6. What's next for you?
I recently launched a new book called, When Love Speaks where 44 authors share their inspirational stories and messages with the world.  I am looking forward to touching millions of hearts with this book.
I am also in the process of creating a transformational educational platform where world class leaders, coaches, transformational leaders and entrepreneurs can share their gifts and messages with the world in a big way.  The goal in the next 10 years is to impact 1 billion lives.      
7. In your opinion, how have you helped to reform America/Americans thus far?
I help Americans remember who they truly are and what they are here to contribute to the world.  Each one of the people that I work with creates a positive impact and a ripple effect on the world.  I have worked with athletes, fortune 100 companies, entrepreneurs, abuse survivors, cancer survivors amongst many others.  Each person and company that I work with goes on to create incredible impact and positive change in the world.