Memorial Day: Stop The Sales And Educate Yourself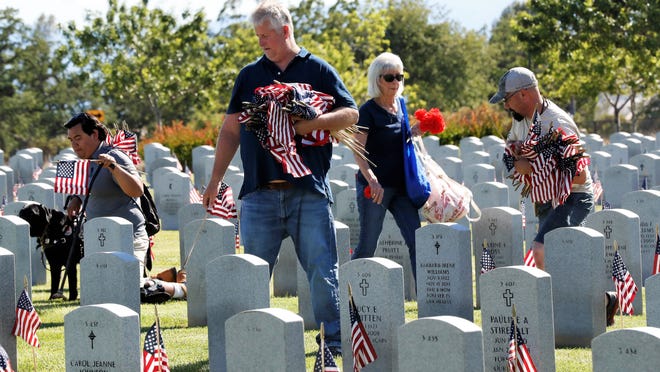 It's Memorial Day. But do Americans know what Memorial Day is and really means? By "definition", Memorial Day is a federal holiday in the United States for honoring and mourning the military personnel who have died in the performance of their military duties while serving in the United States Armed Forces; The holiday is observed on the last Monday of May.
So why is that on Memorial Day, when people should be honoring those who died, do companies use it as a way to run sales for profit (without donations back to Veteran causes or families of those who have died), while others just party/drink as they see it as a "day off" from work?
Walmart, Wayfair, BestBuy, Lowe's, Amazon, and countless other big and small-named businesses across the United States are all guilty of this "sales" trend on Memorial Day. Reader's Digest even listed a few days ago a giant alphabetical list of deals companies are having.
While people may disagree, as obviously it is a great way for many to save money and get items they need just in time for the summer months, otherwise don't.
Colin Wayne, a US Army Veteran based in Alabama, who now runs a successful home decor company called Redline Steel, is one such person who believes in "people over profit" and that sales on Memorial Day are just plain wrong.
"I'm extremely disappointed with the majority of companies across this nation that tarnish the true meaning of Memorial Day by running "sales/promotions" to monetize the most important holiday in this country.  I believe in putting "people over profit" and doing something most companies would never do, which is to give without the expectation of a return in hopes that other companies follow suit and honor Memorial Day for what it is," says Wayne.
With that mindset, Wayne partnered up this year with Hollywood actress Megan Fox for a second time to create a Memorial Day "give-back" item that his company and Fox are handing out for free. No sales, no hidden agenda, nothing. Just something free for Veteran families and those who want to honor the true meaning of Memorial Day. His goal this year is to surpass $1M in product donations with his/Fox's Soldier Memorial home decor item.
As Wayne goes on to tell us, "As a Veteran Memorial Day is the most important federal holiday in existence and unfortunately has lost it's true meaning. Memorial Day is a day to honor those that paid the ultimate sacrifice for our country. It's a day to honor the family members and loved ones that are no longer here so that we can have the many freedoms that we have in America. Memorial Day is important to me because this day was nearly dedicated to me, and my kids would have grown up without knowing their dad just like so many other families across the nation. I want to become a voice for the voiceless and remind everyone what Memorial Day is truly about."
Another person, Jack Wayda, a retired Air Force Veteran in Florida, backs Wayne's statements bluntly telling us, "Memorial Day does not honor veterans who came home. That is another day in November. The sole purpose of Memorial Day is to honor those who made the ultimate sacrifice and gave their lives in the defense of our country. As retired military, ceremonies for Memorial Day were very commonplace on bases where I was stationed. More people here should be having ceremonies too rather than sales."
In 1996, President Bill Clinton signed into law a "National Moment of Remembrance", a full minute of silence at 3PM on Memorial Day, to "remember and reflect on the sacrifices made by so many to provide freedom for all."
So, even if you are grabbing a deal, or having a drink with friends, whatever you're planning to do this Memorial Day, take the words of some Veteran's to heart. And if you are a business owner, maybe instead of just giving discounts, donate some of the funds you are making back to Veteran families or causes. But, no matter what, if you can pause for a moment at 3 p.m., do it. Keep the true meaning of Memorial Day alive!