Is Beer League Hockey Something We Should Pay Attention To?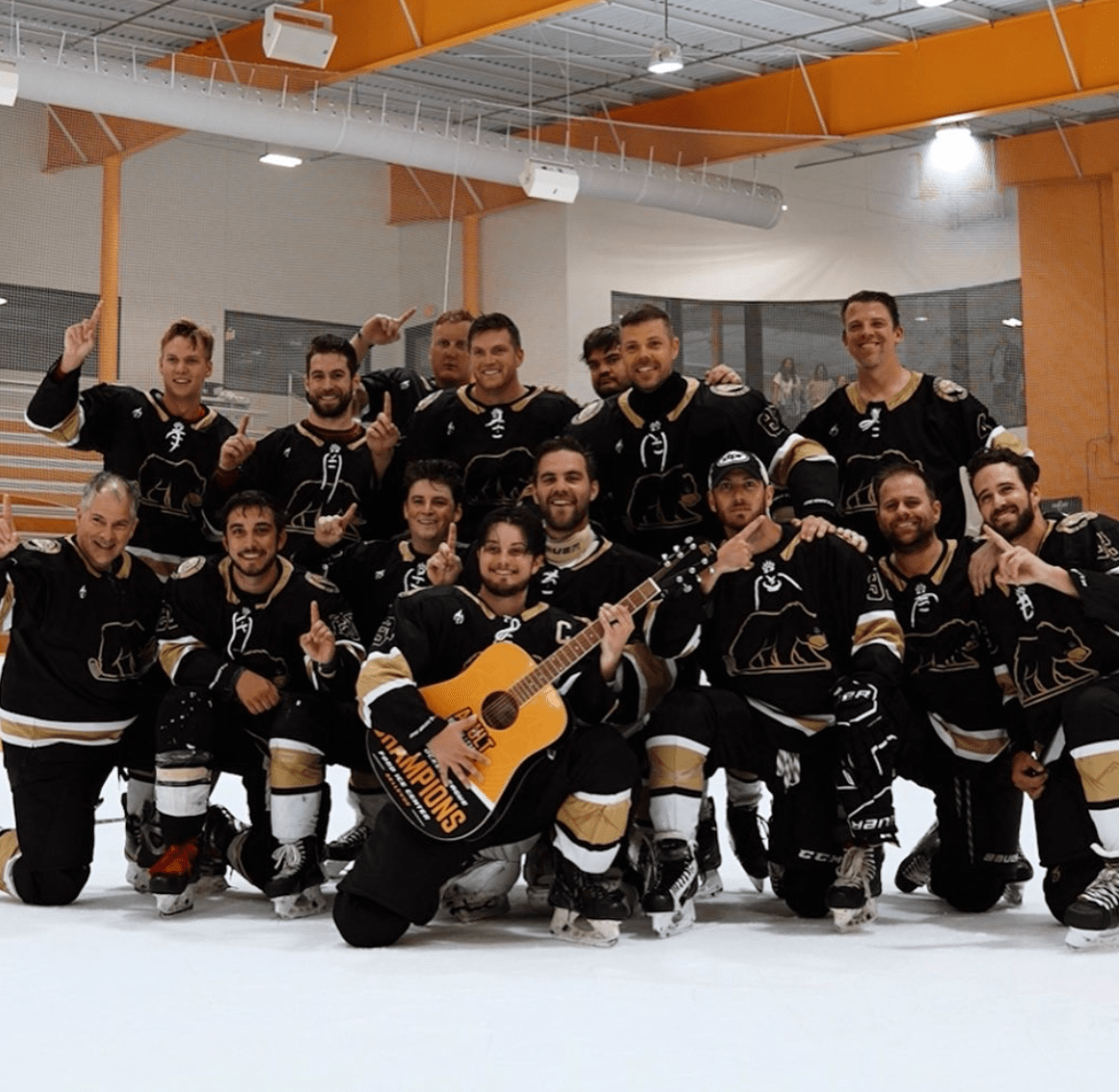 The answer is simply and easily: Yes!
Earlier this week many in the hockey world here in America will remember it as a day of  a parade and celebrations for the Stanley Cup Champions, the Colorado Avalanche. However, in non-professional leagues around the country, teams have just finished their own seasons and crowned their own local champions. One such league in Nashville, TN that plays out of the same practice facilities as the Nashville Predators has taken the city by storm, and started a conversation about how important 'beer league hockey' means to those adults who play it and their families who cheer them on.
The GNashville Rampage recently won their division championship in an upset win against their opponent, and to celebrate the city granted them a celebratory billboard on the main street (Broadway) as well as a fancy Championship Guitar to lift high. What's more is that since the team's victory, media outlets across the country have started to pay attention and cover the team of 'misfit adults' who came together from all walks of life to build a team of winners; Such reminding many of the classic Mighty Duck films starring Emilio Estevez.
The team consisting of military veterans, nurses, scientists, doctors, pilots, musicians, reality stars, producers, sheep farmers, college athletes who never could make it pro and even graphic designers, has built a fan base in Nashville that is usually reserved for the likes of country music stars like Luke Bryan.
But what's more is that this team led by their captain Jason Pepperack has given hope and joy to a city and nation that needed a spark during some of today's tough times. 
A recent study showed that one in four adults (25%) in the U.S. currently play sports in a "fun" recreational league. 
While professional athletes are paid to play their very best, this men's league 'beer team' pays to enjoy the game they love. They aren't professionals. They don't have trading cards (yet!). But what they do have and share is a desire to give their all for three periods of play, each and every week. It's a distraction from all of the other things going on in life, and for a moment brings a bunch of strangers together to play a sport they all love, for pure joy. Nothing else, nothing more. This idea and concept is one that now has shifted the focus of people everywhere looking at the Rampage and other teams like them as examples of how we all should live our lives: Working hard in our everyday careers, and then finding a passion project or sport that can be an escape and bring about happiness. Oh, and there are also the benefits beyond just emotions.
The best thing about playing recreational sports (like hockey) as an adult is that there are so many benefits that come with it. It's a good way to get some exercise, improve your mental health, relieve stress, be a part of a community, and bond with your friends & family. There's something to be gained from playing sports for everyone, regardless of age. The Rampage team in Nashville has guys in their 20s all the way up to their most 'senior' member Ed Callaway also known as Ray Bourque to the guys in the dressing room.
Whatever the reason for people joining up to a beer league team, the Nashville boys have started others to pay attention. Rumors of a reality show based on the team has been talked about across social media, and even people around the world including those in Finland, Sweden and Iceland have been posting about "the f**kin' champs".
How one small team with big goals has garnered so much chatter is amazing. It's the American Dream for some, but for all of us it is proof that anything is possible, and the spotlight can be on us all, we just need to dream big and follow our passions. 
The GNashville Rampage have reformed the way we look at beer league hockey for adults, and reformed the way other leagues in all sports will continue to grow with more people paying attention to the athletes who do it for the love, and not the paycheck. That's true sports. That's the American way as it should be!
Follow the Rampage at: https://www.facebook.com/Gnashville-Rampage-Hockey-108737444925122