Illustrator Eric Afuso Talks About the Phenomenal Art for "Dragons Don't Dance Ballet" and "Song of the King Salmon"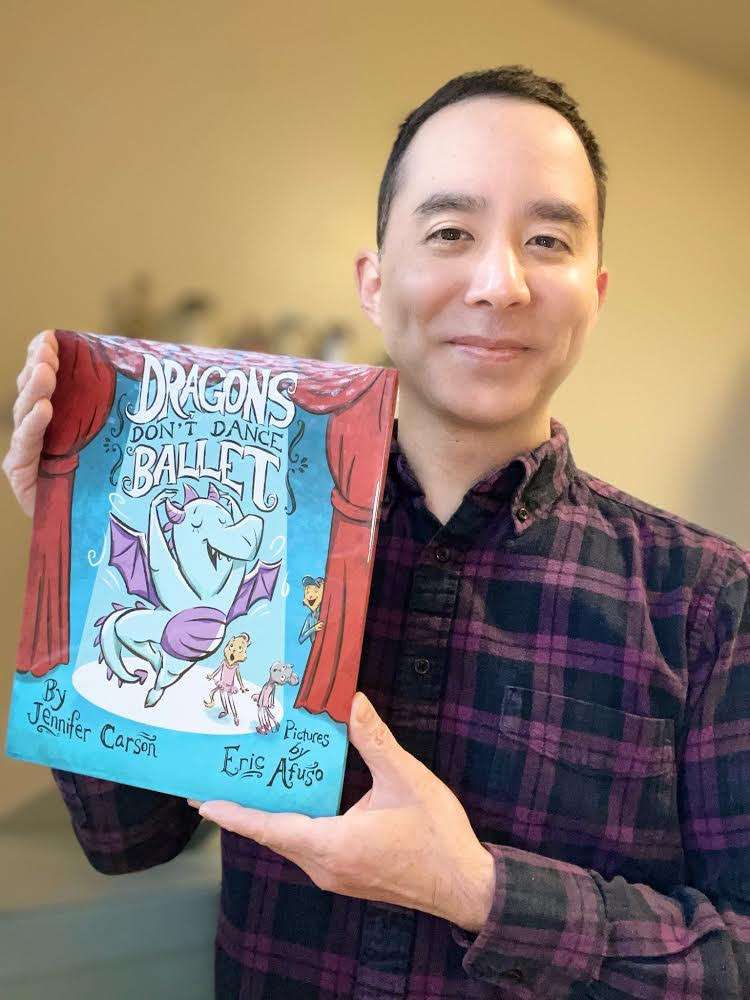 Eric Afuso is a storyteller at heart, telling stories with beautiful illustrations that capture the hearts and imaginations of readers, which is very much the case in "Dragons Don't Dance Ballet" written by Jennifer Carson and "Song of the King Salmon" by iconic writer Wang Ping.
"Dragons Don't Dance Ballet" has been a huge hit with readers, while "Song of the King Salmon" is highly anticipated by readers and critics. These are the first books Afuso has illustrated, coming from a background which includes creating graphic art that was featured on children's clothing sold through major retailers such as Walmart, Macy's, The Children's Place, and Target.
With the success of his visual storytelling we were thrilled to have the chance to sit down with Afuso to talk about artistic inspiration, telling stories and the groundbreaking books he recently illustrated. 
"Dragons Don't Dance Ballet" is your first children's book, and it was a hit. What was it like for you when you were asked to take part in this project by Vinal Publishing? Did you learn anything about yourself while illustrating this book?
I felt so fortunate that my editor, Brett Axel, was so confident of my skills as a artist that he asked me to be the illustrator for this book. As soon as I read the manuscript he sent me, I immediately fell in love with the story. I loved the book's message of following your dreams against all odds since this directly related to my own journey as a children's book illustrator. I had my own doubts that I would actually be able to accomplish my lifelong dream of becoming a published children's book illustrator, but this book really made my dream come true.
I learned so much while illustrating this book since this was the first book I have illustrated. Every step in the process of illustrating was all new to me. As I illustrated the book, I really gained a appreciation for the craft of children's book illustration. It's easy to think that illustrations are drawn simply without much thought, but there are so many more steps involved. From drawing up thumbnails to putting the final touches on the cover, the whole process was a valuable learning experience.
You have an amazing ability to fully integrate your art with the author's story. How do you manage to do this so brilliantly?
I imagine what the characters and their environment look like in the author's story. From the moment I visualize what they look like, I put it down quickly by sketching it all out. I like to sketch out every emotion that the characters will express, every action pose of the characters, and every detail that might be included in telling the story. Every sketch brings me closer to immersing myself in the visual world of the story. Only after I'm satisfied and completely comfortable with drawing these characters and their world will I attempt to make the final artwork. It might take a ton of drawings to get it right, but all the effort pays off when the art is in harmony with the author's words.
You captured the whimsy of "Dragons Don't Dance Ballet", and also the drama and beauty of "Song of the King Salmon". What was it like for you to develop the art for these books, and was the process similar, or did you work differently on each book?
It was challenging in some ways to come up with the art for these books. They both had subjects that I did not have much knowledge of. For "Dragons Don't Dance Ballet" needed to do a lot of research about ballet since I don't really know anything about the dance. I watched many online videos to capture the look of each dance move. My daughter actually was a great help in showing me her moves since she has taken dance classes before.
For "Song of the King Salmon" I needed to do some research on what salmon fish as well as their underwater environment look like. It was a definite learning process since I have never really drawn fish and the underwater world before.
Although the illustration styles from these books were very different from each other, the process of illustrating these two books were very similar. For both books, I first researched all visual references photos and videos that would help me understand how the characters would look and move in their environments. Then I would sketch the characters and story elements over and over again until I got the total feel for the style of the illustrations and the final look of the characters.
Jennifer Carson was a relatively unknown author before "Dragons Don't Dance Ballet". On the other hand, Wang Ping is a beloved and renowned Chinese American poet and author. Was it intimidating to illustrate the work of such a legendary and beloved icon for "The Song of the King Salmon?"
Yes, I felt a little nervous to illustrate the words of Wang Ping since she has already accomplished so much in the literary world. I just wanted to measure up my illustrations to the same high standards of all her outstanding work. It was a honor and a great pleasure to have a chance to illustrate her book.
What is next for you? Do you have a book or project you can tell our readers about?
Yes, I do have some upcoming books that I will be illustrating. I'm thrilled to share the news that I will be illustrating a follow up book to "Dragons Don't Dance Ballet" that will also be written by the talented Jennifer Carson. Someday I would like to write and illustrate my own children's books.
To get more information about Eric Afuso, "Dragons Don't Dance Ballet" and "Song of the King Salmon" you can visit the website for Vinal Publishing.