How Diamond Batiste is building a film empire from the ground up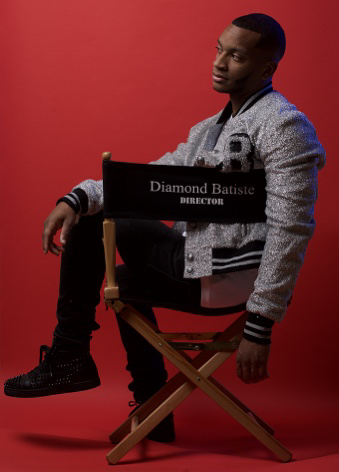 When many people think about the movie business, they imagine the glitz and glamour of Hollywood Hills, multi-billion dollar studios, and mega star-studded productions. Diamond Batiste is turning this definition inside out and creating a new category for up-and-coming film producers who choose to follow in his footsteps.
Diamond Batiste is the founder and director at Diamond B Films, a California-based production company specializing in the writing, production, and direction of videos ranging from short films to music videos and web series. Diamond has worked with some of the biggest names in the online and traditional entertainment industry, from Lele Pons, King Bach, and Kway Rogers, to household names like Janet Jackson, Jennifer Lopez, Tiffany Haddish, Cam Newton, and Nick Cannon.
The Origin
Diamond got into the film production business purely to tell stories in creative and unique ways.
" I've always been a storyteller and have been watching movies and television since I was a child," Diamond says. " I started out filming with some of the most viral content creators such as Lele Pons, King Bach, Destorm Power, Amanda Cerny, Kway Rogers, Marlon Webb, and Adam Waheed. Across  all social media platforms, I have been responsible for over a billion views."
Due to the obscene amount of traction that Diamond was able to generate through his work, he started to gain attention from the bigger names. This led to him working with several celebrities and entertainers within and outside Hollywood.
Making Waves
" I've been in the film business now for a little over five years," Diamond says.
Over the years, DiamondBFilms has grown to incredible heights, producing some of the best bits of content in the online entertainment world and creating opportunities for many to be inspired.
"Here at DiamondBFilms we have a consistent clientele that we write, produce, and direct videos for ranging from short films, music videos, web series. You name it, we do it. "
The Road to the future
In less than 5 years, DiamondB Films has set the stage for a bigger vision; carving a unique niche in the industry that was hitherto uncharted.
"I wouldn't say that I have competitors because I am the only one in this race" Diamond comments. "
Diamond has an audacious vision for the future of his company, outlining the grounds he intends to cover, and the terrains he wishes to conquer.
" Next year I see myself having a good amount of web series completed, a few short films, and my first proof of concept for a feature film completed," Diamond declares. "In five years I expect to be with the right representation, an award-winning director, actively working in the industry. In ten years I plan to have a reputable production company responsible for some of the greatest stories ever told."
Diamond Batiste is evidence that there is nothing that is impossible to achieve, with the right amount of effort and tenacity. He is reaching out to thousands of followers through his IG @diamondbfilms.