Bennett case goes to Federal Court; State court Judge faces scrutiny and Governor on the hot-seat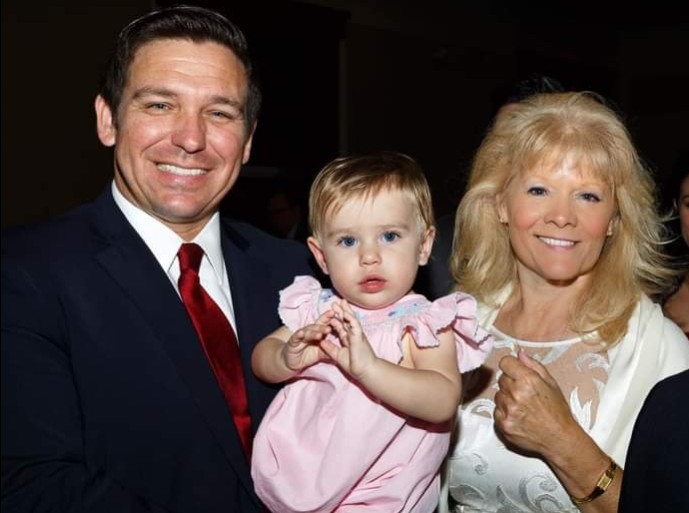 "This could be an Andrew Cuomo type of scandal for Governor DeSantis."
The high profile divorce case of Laurel Bennett and her much younger husband, the baseball bat wielding wrestling promoter turned candidate for United States Ambassador under The Trump White House, Benjamin Irish, has been removed to Federal Court.
Now Bennett, a once powerful Palm Beach political figure, will have to explain to the Federal Judiciary her use of 22 different names to acquire properties in multiple states, and answer if it true she is dying of cancer, a claim Irish says she made to raid his insurance fund. (Bennett, who appointed her consultant, disbarred lawyer and convicted felon Tom Vaughn, to inform the public she had terminal cancer two years ago and threaten Irish, is still alive and appears to have never been sick in the first place.)
Bennett's fall from grace has been precipitous. A one time candidate for Mayor of Palm Beach and an aspiring Governor, it was revealed she uses a multitude of aliases including Laurie Zeitz, Laurie Hartzheim, Laurel Saracco, Nancy Jordan and more. Irish has cited 22 and his discovery of his wife's activities has led to criminal investigations in multiple states. The couple were married in Las Vegas.
"She is a complete fraud, and Governor DeSantis needs to have FDLE identify her and investigate this woman's activity and associates, then Ashley Moody has to charge her dumb ass. She has attached my name to this crap. These politicians need to get a job. They are becoming like beggars." Said Irish.
Recently Bennett defaulted on her mortgage in Palm Beach Gardens, claiming her identity had been stolen and that she was unaware of the mortgage itself. Bennett's lawyers have stated they are yet to be paid by their client and that Irish possesses "superior wealth" against the one time Mar-A-Lago madam.
"That's because it's another con. That's all it is. She has been caught. How can the State divorce me from somebody they can't prove exists? That's not Constitutional." Said Irish, who caught up with The Reformer as he walked his dogs, Zeus and Zoey, in New York's Central Park.
"Look, in her prior cases–you see she is a professional litigant–she stiffed those lawyers too. I guess if you are so dumb as to get caught faking terminal cancer that it helps when you get free legal representation. I mean what will they do? Sue somebody using a fake alias?"
State Court Judge Renatha Francis sat wide eyed and stoic in the Palm Beach Court as Irish explained to her he would now allow the Federal Court to handle the case. "It goes to expertise." Said Irish. "I don't believe this judge even reads her docket. She has vacated any expertise she has to adjudicate this matter."
"Judge Francis is under extreme pressure because of Bennett's case," said a source inside the Palm Beach court who did not want to be named. "Judge Francis ordered Bennett prove her identity and that she has jurisdiction here, and then Bennett never responded. Now it has come out that she is a complete fraud, and Governor DeSantis is concerned this could be a scandal for him like the Andrew Cuomo scandal in New York. DeSantis wanted badly to be President, and his affiliations with both Bennett and Judge Francis are the talk of the town. This could come back to haunt him, her too."
DeSantis has lobbied heavily for Judge Francis, despite her being a Democrat. Francis was demoted from The State Supreme Court to the Palm Beach bench for lack of expertise in felony matters. DeSantis appointed her to the lower court without the endorsement of President Trump, which he sought but Trump refused to issue.
Irish shrugged off the statement: "Ron is a big boy, Judge Francis is a big girl. If Laurel Bennett is the reason DeSantis loses his bid for the presidency, well, he should have pulled his big boy pants up in handling this. Bennett isn't even a Florida resident. What a shame, this is what is wrong with the Republican Party in Florida. Corruption like this is the real pandemic."
Ron DeSantis became Governor with less than a 1,000 vote margin. The woman calling herself Laurel Bennett amassed over 40,000 votes in The Palms in a failed bid for The Florida House in the same election. Many political insiders feel that absent Bennett, DeSantis may have lost the race.
During a hearing in June in State Court to determine Bennett's identity Judge Francis cut off Irish 69 times in 15 minutes as he spoke. During the bizarre encounter Judge Francis stated that she struck Irish's Jury Trial motions from the record. Bennett, who was ordered to appear and prove her identity, did not show. A contempt motion filed by Irish demanding Bennett identify herself to give the court jurisdiction, went ignored. One day later Bennett altered her name and ownership status on assets including her homes and her company, PHR Solutions of Florida, that by no irony seeks "personal biometric and identification data from its clients, including their social security numbers."
Irish has brought a very strong Constitutional Rights claim under Title 42 U.S.C. 1983, also known as The Civil Rights Act and The Ku Klux Klan Act, saying Bennett has acted as a stalking horse of the courts and abused legal process, depriving him of his rights.
"Bennett made a huge stink about forcing Barak Obama to prove he was born here. She raised hell over that. Now I want to see her birth certificate! Let's go, honey. Show you are who you say you are."