The First Veteran Owned Fragrance Line Is Changing America!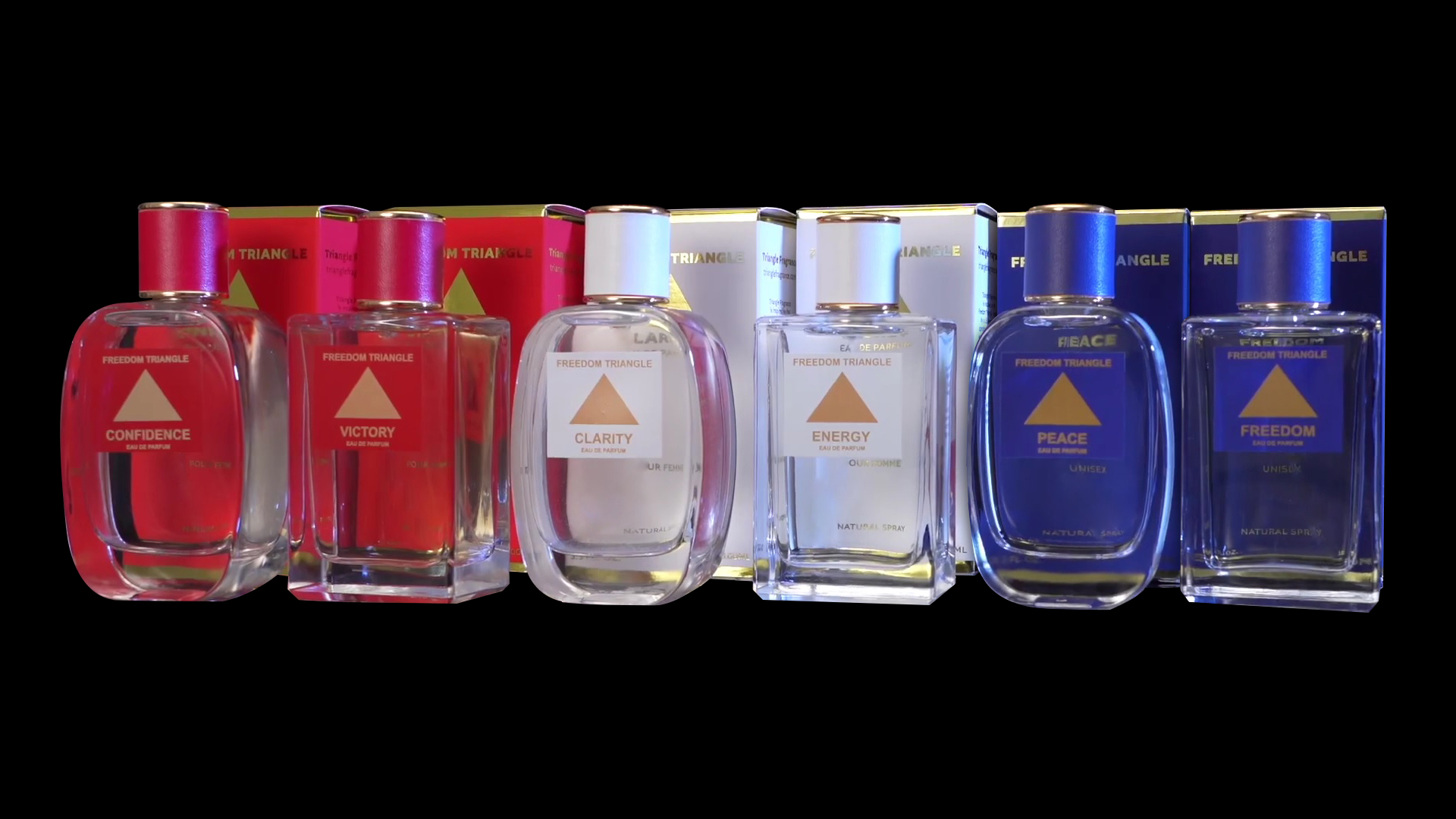 The very first US Veteran-owned luxury fragrance line for both men and women is now out on the market, and the story behind the scents is a game-changer and inspiring other Veterans.
Magda Khalifa is the mastermind behind the company and products, but she is much more than just a founder. Magda is a retired US Army Special Operations Combat Veteran who left her lucrative corporate career and joined the military shortly after the attacks in New York City on September 11, 2001. There she served our country and then after two tours in Irag she returned home and went on to write the best-selling book, "American DREAM: Discipline, Resilience, Endurance, Adaptability, and Mentorship to Succeed and Win in Life".
After the success of the book, Magda created and launched Triangle Fragrance and her non-profit called The Magda Khalifa Foundation, which helps Veterans across the country attain inner peace and significance.
We spoke to this incredible woman and business owner about how her fragrance and "Freedom Triangle" mindset/concept and foundation is changing America and inspiring others.
1. How did you come up with Triangle Fragrance?
Triangle Fragrance is inspired by Freedom Triangle, the powerful philosophical framework I introduced to the world in my memoir, "American DREAM" in 2019. I needed a way to reach people who otherwise would not read a book, so that they would be introduced to Freedom Triangle and could begin to improve their lives. The product would have to serve both men and women and be available globally. It needed to be exclusive and luxurious, to represent the high value of Freedom Triangle. It quickly became apparent that a fragrance line would fulfill these requirements.
2. What are your scents based off of? How do you come up with them?
Each of the six Triangle Fragrances correlate to the tenets of Freedom Triangle – Time Freedom, Health Freedom, Mind Freedom.  I visualized the spirit of each and created unique and beautiful scents to properly represent the different points.  Victory and Confidence represent Time Freedom, with their bold, smoky accords. Health Freedom is brought to life by the scintillating and citrusy Clarity and Energy. The pinnacle – Mind Freedom – is conveyed through the warm, spicy hug of Peace, and the sweet smell of Freedom.  Each scent has its own story and a wallet-sized Collector's Card with eloquent statements, designed to guide you throughout your day as you enjoy the scent you selected.
3. In your opinion, as a US Army combat veteran was it harder or easier to start your own business?
The discipline, resilience, endurance and adaptability gained through military and combat experience has absolutely forged a formidable mindset to jump in the fire, start a business and not be deterred by the inevitable tripwires along the journey. Veterans know how to solve problems, and how to get things done without excuses and with limited resources. They know how to take risks, be decisive and take action. Veterans have a tremendous capability that can be applied towards anything they commit to because they have already been tested, challenged and proven in ways most people have not.
4. How has business been overall during the COVID-19 pandemic?
Ironically I committed and launched the business in the New York City area two months before the city locked down. I remember standing on the outdoor platform a thousand feet high in the sky, overlooking the majesty of the greatest city in the world at the Edge. The Edge platform is part of the newly opened skyrise, 30 Hudson Yards whose beautiful triangle light display that can be seen for miles. I aptly coined the lit triangle as Freedom Triangle in my memoir the year prior while I lived on the Hudson River and watched the splendor of this new iconic building come to life.  It was a symbolic moment for me to be there that day at the grand opening of the Edge, in the shadow of Freedom Triangle. Two days later everything changed.
The good thing about setbacks is they force you to pivot to survive. If you are lean and adaptable, pivoting is natural, whereas if you are too comfortable and resistant to change, pivoting is too great of a burden and will crush you or your business. I don't know if it is from the unpredictability of war or what it is from, but I rolled with it and adjusted accordingly. I started work on a Discovery Set where people could experience a sampling of each fragrance, because no one knew at the time how long retail would be closed. I literally couldn't set up and do a scent test experience with the public because of all the restrictions and regulations in the area, so I took a risk and went with my gut on which variations would be the clear winners. Thankfully that worked well!  It was definitely a weird time but I focused on the design and development of the line. I had Wi-Fi, electricity and cellular service so there was literally no excuse not to push through and emerge strong.  Despite manufacturing and shipping delays as lockdowns spread across the country, online pre-sales and sales were consistent month after month.
5. You talk a lot in your prior book and now new company about the "Freedom Triangle"… what exactly is this concept and how does it relate to each of us?
Freedom Triangle consists of the areas in life we need in order to find inner peace and significance in life. It facilitates finding our true selves, independent of what others may influence. Some people never find their Freedom Triangle, and some only reach it on their deathbeds.  Society has historically encouraged us to go to school, get a job, have a family, and work for forty years for forty hours a week for forty percent of our paychecks. Many people have exceeded that model and have found financial success or independence and clear purpose. People in both groups may believe that they have reached their potential, and life is good and that is that.  Despite that some feel stuck; they may be "successful", but they are not satisfied. They want more in life because they know they are meant for more but they do not know how to find it. Freedom Triangle identifies the areas in life that may be holding us back from reaching that state of limitless – the point of clarity where you know exactly where you need to go and what you need to do to get there, in order to serve in your highest capacity. When you find it you have the inherent superpower to serve as your most effective counsel, solving problems in your sleep even! It is the most distraction-free state of living. Some do not want to take that hard look in the mirror and learn or accept the less attractive sides of themselves, or take the actions to remedy them to achieve more. Ego, insecurity and laziness are examples of self-inflicted anchors that hold people back. Those who commit to the journey emerge as better versions of themselves and move more easily through life.
6. How do you feel your company – and yourself personally – have helped to reform Americans?
We are in a transitional time in our great young country due to a combination of factors and influences. These variables have the power to transform our nation – for better or for worse. Articulation of my life, experiences, perspective, and continued action serve as a generational bridge from a historical standpoint. I believe the leadership of voluntary military service and "what you do with that experience" after war is a dually critical part of the fabric of America. We have a saying in the military, "If not us, who?" I am focusing on contributing to the GDP and doing a part to preserve capitalism, while paying it forward to those less fortunate through philanthropy.
7. Why is it important going forward that American companies continue or start changing their ways to keep products being made here in America?
Power = influence. If we are beholden to other nations for our products it has the potential to influence our foreign policy and jeopardize national security. It's uncanny that in the middle of a pandemic we learned that we relied on other countries for the majority production of pharmaceutical ingredients. Triangle Fragrance is proudly Made in USA.
8. What advice do you have to other Veterans wanting to start and succeed in the business world after serving?
I recently spoke to a group of transitioning Veterans and reminded them: You've been tried, tested and proven in ways unimaginable to most Americans. Transitioning from military to business is in no way as punishing as transitioning from civilian to military. Yes, you can get a job as a defense contractor with that active security clearance you still hold, and yes, you can continue to deploy overseas to stay in familiar territory. Or, yes, you can find a great corporate position in a company and lead teams. But are you going to be satisfied in the long run?  As a veteran who has walked in your boots I understand the significance of having served with the greatest military on the planet during a time of war, where we automatically did what we had to do – for each other. I also understand what it's like to see our freedoms trampled – the very freedoms that so many of our brethren died for.  You have what it takes to take control of your future through the lens of the person you've become, and create products, services, and jobs to continue to serve our country. You have what it takes to instill the values you believe in through what you create. There are countless resources to guide you on this journey, and mentors who want to see you succeed. Our country needs business owners with our grit. Are you in?
9. What's next for Triangle Fragrance in 2021?
Distribution! As the country reopens the timing is prime for synergies through brick and mortar shops as Authorized Distributors, and through the retail chains. If anyone is interested in lucrative partnership with the next great American brand, please reach out at info@trianglefragrance.com.
10. If you could change just one thing in this world, what would it be?
Eliminate daylight savings time. Environmental factors influence our wellbeing and by extension, productivity. For example in the US alone, the majority of people live in states where they do not receive enough sunlight many months out of the year.  This of course affects Vitamin D levels and can lead to or exasperate health issues.  I believe making this change will be beneficial for many people worldwide, as dozens of countries currently participate in daylight savings.