RoboCop gets a new spin-off short tale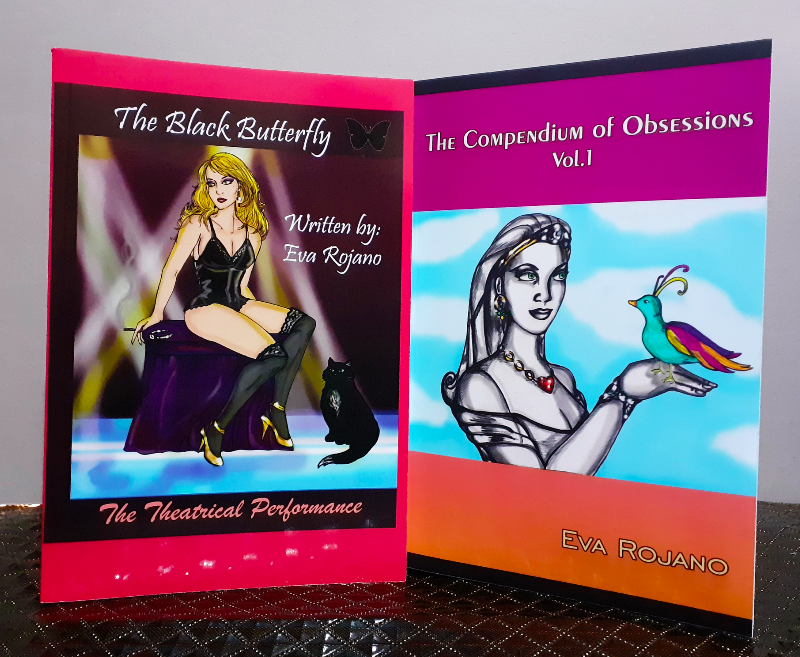 Earlier this year, independent author Eva Rojano made headlines in the American Reporter alongside her writer inspiration, screenwriter Ed Neumeier (RoboCop/ Starship Troopers), when releasing her first novel: "The Black Butterfly" on Amazon Kindle.
Very recently, I had the chance to get a hold of Ms. Rojano and talk to her about her new book that although doesn't connect to "The Black Butterfly" it does connect with Ed Neumeier and Michael Miner's RoboCop, as she includes a short story in her "Compendium of Obsessions" that pays tribute to the characters of the saga.
1.- Eva, we would like to know what was your primary motivation to release a RoboCop spin-off story in your new book?
I've been a RoboCop fan for most of my life, and as a young girl that loved sci-fi films, I needed heroines when growing up, so I adopted Anne Lewis as my own. Then she was killed in RoboCop 3 and as corny as it sounds, I promised (the character) I was going to save her one day.
2.- Then, your story is about saving RoboCop's longtime partner?
The short tale "Do you dream of me?" that I included in the book among other stories and proses is more about preserving the police cool duo that RoboCop and Lewis represented back when the films were released. 
My real breakthrough as a writer was starting my fanfiction ongoing series "RoboCop Enhanced Reality" that I started writing in 2016, and in those chapters I play along with elements of the sequels (2, 3) and I create an alternate story in which, Lewis survives.
Actress Nancy Allen once said to me, that the producers of RoboCop3 should have spoken to me back in the 90's. Mind you I was just a teenager back then.
3.- What about the first film? Do you take elements from it for your stories, too?
Once I made an illustration of an unfilmed scene from the first film that was originally written in the script and I gave it to Ed Neumeier, then he said to me, he was probably the one that eliminated such scene because he thought that what works good on paper, probably doesn't work well on a screen, which was a tremendous lesson for me. And made me realize that the script (filmed as it is) is so perfectly done, I wouldn't touch it, not even for my fanfiction stories.
4.- What does Frank Miller think, of what you've created, based upon the scripts he developed for the RoboCop sequels back in the 90's?
I have never spoken to Mr. Miller, although I'd be honored if that ever happens. It's been more than 20 years since he developed those scripts. So I'd be very curious to know if he thinks my ideas are interesting.
5.- How did you get around MGM rights to release your spin-off story?
I removed all trademark names. The story basically is about an old, semi-obsolete cybernetic police officer that misses his longtime female companion. I renamed the characters to not infringe any copyrights. This is as far as I can get as an independent publisher that can't afford the characters' rights, to keep RoboCop and Lewis, alive, and together in my creative land. Think of it, as them existing in another universe, "The One" style.
6.- What is happening with RoboCop these days?
I am not the one to talk about the subject, but we've heard RoboCop Returns is still in the early stages of pre-production and Ed Neumeier had recently told the media about creating spin-off TV series that would focus on the Dick Jones' character, alongside David Parkin, another writer, who happens to be an Amazon author like me. Unfortunately, it has been announced that it's likely MGM will be selling the RoboCop rights next year, so the future for the franchise is uncertain.
7.- What do you think of film studios doing "fan service" to please fans?
I think that fan servicing is a double-edged sword. You see, we, fans, think we have all the answers of the universe! But if you gather a group of fans and ask them to elaborate their ideas further, only a few would do it. The rest wouldn't care after a while.
Having said that, I think that nonetheless is important that all film studios research the things that move the fans the most and the things that definitively they don't want to see in a film or a TV show.
8.- What about the second part of the Black Butterfly? When will it be released?
The story of Matt and Anna is complete, at least in my head. I know how their adventure ends, but I had to split the story into 3 books. The second part is more or less complete, will be published hopefully sometime next year. Part 1, "The Theatrical Performance" briefly hit the top 100 bestselling e-books on Amazon Kindle under the category of "Erotic thrillers" a month ago. Those were exciting hours for me!
9.- Talking about Frank Miller again, you illustrate your ideas, the same way he did in his youth.  We do wonder if you plan to continue illustrating your upcoming books?
Yes, of course. I have been a pencil artist ever since I can remember, so I was a visual storyteller before I took the next challenge to become a writer, now I combine both skills to portray my ideas, the best way I can. I understand very well other writers that are also visual artists, and I surely identify with their creative processes.
10.- How can readers purchase your books? Do you publish outside Amazon?
No, only on Amazon. I schedule a remote meeting with my editor that is in New York to discuss ideas at least once a week and we have planned some projects together, but for the moment I will stick to my Amazon Kindle store and see how it goes from there.
You can find "The Compendium of Obsessions" and "The Black Butterfly" under my author's name. Both books are free for Kindle Unlimited members.
Links for the books:
https://www.amazon.com/dp/B08L5PP5J5