Marc Lickfett Is Reforming Americans One Knife At A Time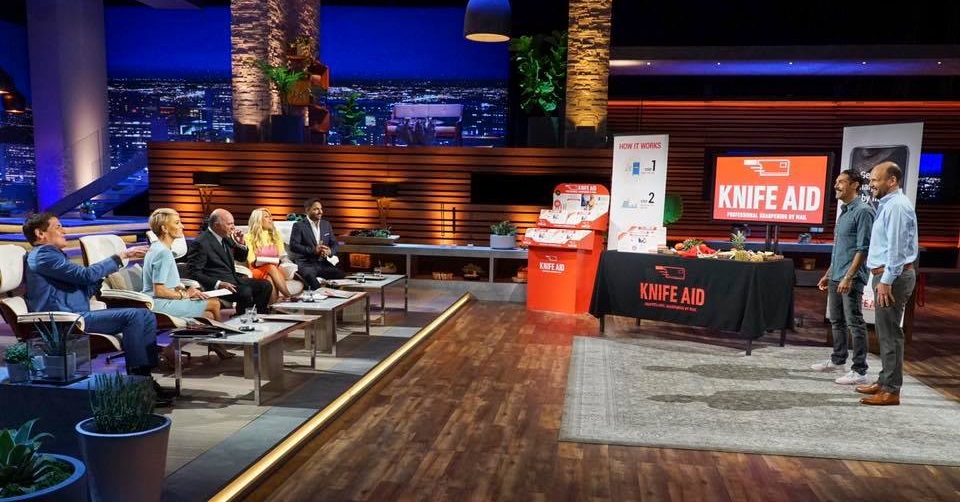 You may have seen him on the hit TV show Shark Tank, but there is much more than meets the eye when you get to know Marc Lickfett, the founder of Knife Aid Inc., a mail-in knife sharpening company that has been one of the most talked about businesses in the country.
Prior to helping us Americans sharpen our knives with ease, Marc – originally from Sweden – has helped start and lead other companies around the globe to huge successes such as Mercedes Benz and King & McGaw Ltd.
We caught up with Marc to learn more about his career, how life in America is these days, and his plans with Knife Aid going forward.
1. You have had massive successes over your career around the world. Now you are in America with your company Knife Aid Inc…. How has that been going for you and why did you decide to launch it here?
The USA is the heartland of entrepreneurship and the ultimate challenge, so it has always been on my bucket list to start something here. As I have always been in tech California is my mecca, and it is great fun to tab into the networks and skills here. From a purely financial side, I do not think most American entrepreneurs appreciate what a luxury it is to have such a massive market to sell into. Europe is amazingly fragmented and different languages, currencies, rules, and regulations etc. create high barriers between the markets. Having such a large and fairly homogenous target market as the US just creates so much potential for large scale financial success. 
Knife Aid has been doing very well. I have definitely been on a steep learning curve when it comes to doing business here, and I am still amazed at the low amount of regulation in the US. It is possible to be much more creative here as the framework is so much looser than in most other places. With that freedom comes great responsibility though, still it is great to be here.
2. Your product appeared on Shark Tank… What/how was that experience like?
The experience is a bit of a blur. They told us the day would be a bit like your wedding day: highly intense, lots of impressions, and over in a flash. They were right.
As my partner and I have had successful businesses in the past, we felt there was a massive downside to being on Shark Tank, as it has the potential to embarrass us on national TV. The Sharks are known to be ruthless, and being called "a cockroach under his shoe" by Mr Wonderful – as has happened to other entrepreneurs – is nothing we ever aspired to. On the way to Sony Studios at 6am in the morning we therefore almost changed our minds and debated heading to Palm Springs to sit by the pool and drink Margaritas instead. Luckily we ended up going and had both a really fun time and the best promotion for our product that you could possibly imagine.
3. How do you feel your products and company have helped to reform Americans?
So many Americans are working in the kitchen with tired, dull knives. Even people with little interest in cooking use knives to open ready meals or other packages. No matter what you do with your knives or scissors, it is saver and more fun to work with sharp knives. We have heard thousands of customer stories by now that are all similar: "we got those knives for our wedding eight years ago and they have never been sharpened." Or "this used to be my favorite knife, but it has spent five years in a drawer because the tip broke off, and I did not know where to fix it." Americans love their knives, but there simply has not been a straight forward, convenient and easy way of getting your knives sharpened until we started Knife Aid. As we are growing, I am hopeful that we can keep many thousands of knives out of landfill. Knife production is energy intensive and a knife can last 25 years with a bit of help from us, so hopefully we can help customers to save money and have a positive impact on the environment by making it easier to reuse knives.
4. How is the American marketplace and business landscape different from other regions you have worked such as Germany, Sweden and the UK?
As commented earlier, it is the freedom of what you get to do here. I have had many Americans tell me how there is so much red tape in California, but it is still nothing compared to Europe. The freedom in the US impacts all aspects of business, be it company formation, customer rights, or product design. The high level of regulation and at times clearly over regulation, e.g. in Germany, has the considerable disadvantage of limiting your options and driving up cost. True innovation is often hampered by laws and regulations in Europe, and it takes years to change these. An example of this are the issues Uber has with its expansion in Germany, where tax laws, unions, etc. are fighting them each step, as a result Uber does not work as well or is as cheap as in the US. On Google Street View Germans have the right to get their private houses blurred, as Germans consider it a matter of privacy. I have never really understood the logic of it, but it serves to illustrate the strange and limiting effects over regulation can have.
On the flip side can regulation help to make some aspects of business more efficient. Sweden is a great example where starting a business or buying a house can be done with simple forms that are two pages long, highly standardized, filled in online. The transaction costs are almost none existent and the process takes one or two days only.
5. How have sales been since the pandemic started?
Erratic is the best word to describe it, I guess. For all of 2020 we have seen 100% growth, but March and April last year were not pretty. The early shock of the pandemic had everybody distracted. We have also struggled with our couriers. FedEx and especially USPS have been struggling last year, and as for so many ecom merchants the time around the election in winter was the worst. Massive delays, packages disappearing as well as holiday surcharges (can you believe it!) by the couriers kept our customer service busy and resulted in higher cost. The additional COVID processes in the business also put a strain on staff and the business, but we were lucky that no one got sick and running really tight processes obviously helped. Luckily 2021 is back to normal when it comes to the couriers, so that is a relief.
6. What advice would you give other entrepreneurs who want to start and run businesses during the pandemic?
I think this crisis is creating a wealth of opportunity for the brave. Market trends like the adoption of technology have been massively accelerated by the pandemic and this creates market opportunities. Our life will never quite be the same, and that creates the chance to innovate and create entirely new business models. The situation will remain volatile, and there will be no end date to the pandemic, so continue to make choices, keep moving forward, and be willing to take risks. In unprecedented situations like today it is tempting to wait for hard facts or data before deciding, as it all feels too uncertain, but that is highly dangerous, and I prefer to keep moving based on gut-feel and intuition, rather than stay on the side lines to wait until some level of certainty returns. By then most of the great ideas will have been exploited by braver people.
7. What's next for you in 2021?
We have some great cooperations in the pipeline, which we cannot share just yet. We have managed to revitalize the interest in knife sharpening, which has been noticed by a number of major brands and retailers, and that is great fun. We have also started to increase the types of knives we sharpen and have for example added the very special knife type of single bevel knives, used by sushi chefs. And we have a number of more exciting products in the pipeline.
8. If you could change just one thing in this world, what would it be?
I would love to see more compassion and respect in the world. The pandemic has helped to highlight how important it is that we take care of ourselves, of each other and the world as such. Creating wealth and progress at the expense of others will be less and less possible and acceptable. Businesses and individuals will need to be more respectful and compassionate about the impact they have on others and the planet to create sustainable progress and wealth. The vaccine rollout and mutations of COVID show how we need compassion and solidarity in the world to get this pandemic under control. As long as there are countries that are left behind we will not be able to eradicate this virus. We started Knife Aid because we love the idea of helping customers to REUSE what they already have rather than adding to more consumption. Hopefully we can help the world a little step along the way to more respect for the environment by keeping millions of knives out of landfill.