Candles Are Helping Americans Through These Pandemic Times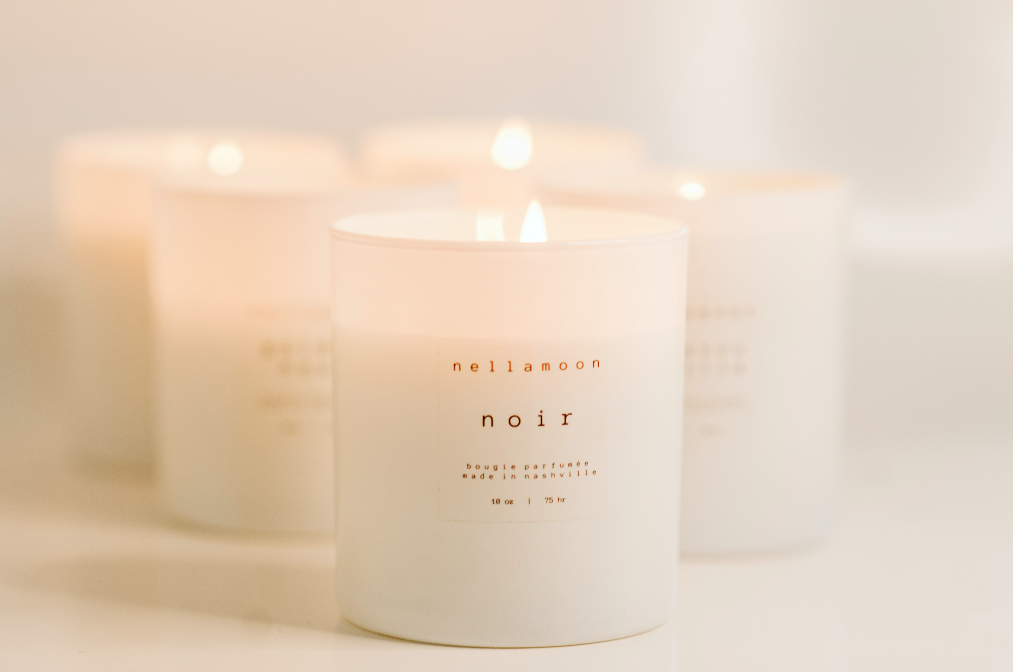 Take a moment to visualize what an ideal calming night in your home would entail. Does it involve a home-cooked meal? A Netflix marathon? Or maybe a warm bath with bubbles and wine? Whatever your ideal self-care night-in – which may be plenty these days due to various COVID restrictions and lockdowns – might include, we're 100% sure that you're going to light a candle or two to set the mood for an evening of relaxation and chill.
Not only do candles set a mood, but during the pandemic candle sales have been on the rise all across the United States due to the various health benefits and natural "zen" factors they bring forward and provide as well.
One of the more successful candle companies on the market today is nellamoon, which is run by a husband and wife duo who not only create incredible scented candles, but each of their candles serve a higher purpose and honor both the founder's loved ones who passed away from cancer years ago; Their candles are created to help "Shine A Light" and bring happiness to those who purchase.
Arielle Ricci is one-half of the duo, and since she has started to create her candles/scents, she has seen her business skyrocket and reform the industry. While she has countless celebrities purchasing, the business became so successful during the pandemic that Arielle and her husband Chris opened a candle store in Nashville to help expand the brand and let people get up close and personal with the candles they were creating.
We sat down with Arielle to learn more about her passion for candles, reforming Americans through them, and what's next as we move along in 2021.
1. How did you first discover your passion for candle making?
I grew up making jewelry, clothes and art, so I've always been very creative.  My husband and I both lost our mothers to cancer so we wanted to do something that would honor them. They were such bright lights in this world and we knew candles would be a perfect symbol of their love, kindness, and grace. I started making the candles in my kitchen in 2014. After about 2 months of consistent trial and error, I had perfected the recipe and created my first custom scent "nashville". There's a very particular science behind candle making and all natural soy wax, which is what we use, is even more challenging than most waxes. We don't use any binding agents or chemicals, which makes the science even more important, but it sets us apart from the competition. We want our customers to experience a clean and safe candle which won't fill their home with toxic and dangerous fumes. My passion for creating beautiful art runs deep within me, and candles were a perfect way to channel that passion and turn it into a mission based business.
2. What are your hopes for your candles and new nellamoon retail store in Nashville moving forward?
We want our candles to help remind people to shine bright and live their best life. A candle loses nothing by lighting another candle, and we believe the same goes for people. Our hopes for our candles and retail store is to continue spreading love around the world and inspire more people to live a purpose driven life.
3. America has been going through some unique and rough times lately. Why do you feel a candle shining/burning can at times bring tranquility?
Candles are proven to help calm and relax people. America, and the entire world has been going through a really tough time and we feel candles are a perfect way to help create balance and bring a sense of tranquility into this challenging and turbulent year.
4. How has nellamoon been reforming the candle industry?
There are many ways we differentiate ourselves from the competition, but I would say the key differentiators are the quality of our candles and the service level our customers receive. We go above and beyond to create original, high quality products that serve as much more than the tangible item that they are. They serve as beacons of hope and symbols to shine bright and live your best life regardless of what you may be going through. We also ensure our customers receive best in class customer service each time they interact with us. These key characteristics of our business are reforming the candle industry and making people rethink how they treat their customers and how much effort they put into their products. People over profits, always.
5. What is your own favorite personal scent? And how do you come up with new ones?
That's so hard! It really depends on my mood and the season. That's why we created the best seller set which is a curated bundle of all our best selling and favorite scents! We also have a lot of seasonal scents which people love. The seasonal scents typically sell out within days of launch, so we're starting to build inventory well in advance now. My all time favorite scent, if I had to pick just one, is probably Golden Hour.
I typically create new scents when I travel around the world. I get inspired by the different cultures and beauty around the world and when I get home, I start formulating! That's where our scents are born:)
6. Why is giving back so important to you overall?
Giving back is the most powerful thing we can do as humans. It makes the world a better place to live. Our mother's were incredibly giving people so when we started this company in honor of them, we made a promise to ourselves and our customers that we would use this business as a force for good. Giving is at the center of everything we do and it's the most fulfilling part of running a business.
7. If you could change one thing in the world, what would it be?
I believe our candles are already having a large impact in the world. They are starting a movement of love and hope and it's contagious. People are seeing how impactful a community around helping people can be. With each candle that's purchased, we're able to help more people and change the world even more! If I could change one thing in the world it would be for there to be more "love".
8. What are your goals for the rest of 2021?
Our goal is to continue growing and using business as a force for good. We have plans to partner with a few celebrities to help fulfill our mission of giving back and inspiring people around the world, so we're excited about that! We want to continue building community and spreading light and love. There's nothing more beautiful than hearing testimonies from our customers about how nellamoon candles are changing their lives. We are so grateful to have a platform to help millions of people and promise to always use it to positively impact the communities in which we serve.