Dr. Daria Hamrah Is Reforming Lives Through Facial Cosmetic Surgery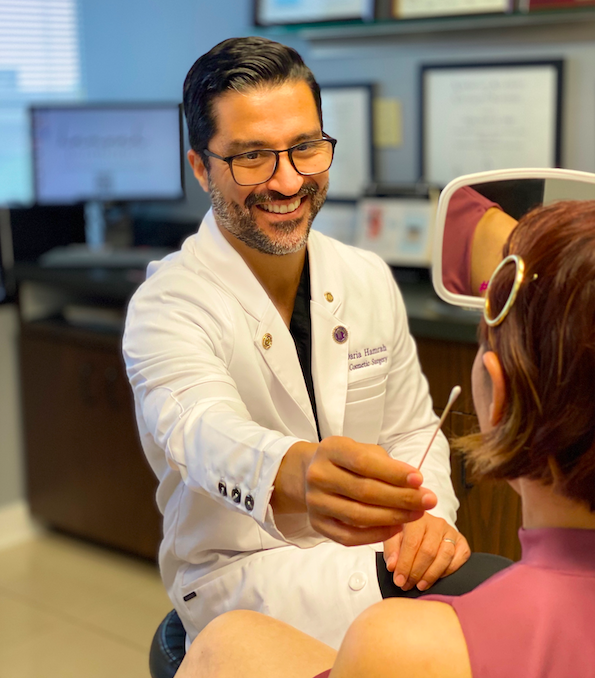 Dr. Daria Hamrah is one of the top Double Board Certified Oral and Maxillofacial / Facial Cosmetic Surgeons in America. Whether someone needs anything related to their face fixed or adjusted, Dr. Hamrah has been the go-to doctor for countless people, including high profile celebrities and figures.
From helping patients with their self-esteem and self-confidence, Dr. Hamrah sat down exclusively with us here at the USA Reformer to discuss why those reasons were his motivating points in becoming a surgeon, and what trends he has been seeing happen during the pandemic.
1. What first attracted you to working in facial cosmetic surgery? 
It wasn't until my senior year in residency in the department of Oral and Maxillofacial Surgery at the University of Miami, when I was part of the head and neck tumor and reconstructive team treating patients with head and neck cancer. I remember, one day a patient that had just undergone a big facial reconstruction after we pretty much saved his life treating his oral cancer, asking me during a follow up visit, if there is a way to improve his scars. Since that day I started paying more attention to my patients' needs about cosmetic improvements. I became more curious to find ways to improve their aesthetic outcomes as I noticed how important their appearance is for their self esteem and self confidence. I had realized that "just" saving someone's life is not the endpoint of the treatment and as those patients, just like all of us do, have emotions and feelings that need to be heard and addressed. This became even more evident to me when dealing with facial trauma patients that were victims of accidents with multiple facial fractures and lacerations that I reconstructed during my training.
2. What main procedure requests are you noticing more these days from patients who walk in your doors?
As a facial cosmetic and reconstructive surgeon most patients come to me for facial cosmetic surgeries and non-surgical anti-aging treatments, like skin tightening, Botox, facial fillers, laser skin resurfacing and skin care. But there has been certainly an uptick in patients coming to me for rhinoplasties (nose jobs) and my popular "Hamrah Facial Slimming" procedure that in essence removes excess fat from the face and neck coupled with tightening of the sagging skin using a new radio-frequency device. As more and more people spend time on ZOOM and FaceTime, they start noticing imperfections and traits they dislike. They simply spend more time than ever looking at themselves and notice things they hadn't before. The two most common complaints are: "I don't like my double chin!" and "My cheeks are sagging!". For most patients below the age of 45 years, the treatments include cheek and neck fat removal together with "non-surgical" skin tightening using radio-frequency technology. For patients above the age of 45, common treatment options include face and neck lift which is a surgical option.
3. As the pandemic continues forward, what trends do you see happening when it comes to facial cosmetic surgery?
I think the above trends will continue as people have simply become "hyper-aware" of their facial aesthetics and will continue to do so as video conferencing and "FaceTiming" using various platforms like ZOOM, FaceTime, Facebook and Instagram have found their place in our society and have become mainstay of the way we communicate today and in the future. The pandemic has opened the doors for these breakthrough technologies to prove themselves as a more efficient way of communication and in my opinion are there to stay. We don't have to fly cross country for meetings or physically go into a remote office 5 days a week anymore. Imagine how much time and money people save that way! The pandemic has certainly taught us much in that regard. I literally have patients coming to me saying: "I am not spending as much money on my commute anymore and now have the money to spend on myself, something I always wanted to do!". But let us not forget another trend that started "pre-pandemic", which is the increase in health consciousness and fitness in our society and that trend is across generations. With that many of us want to look the way, feel and defy the forces of nature and aging. Lastly, the rise and reach of social media in the past 5 years has created an environment where everyone feels they are in competition with one another and want to look and present their best.
4. There are a lot of "not so professional" and "bad" cosmetic surgeons out there, which have led to a lot of horror stories in the news. What tips can you give to people when they are seeking out a doctor to help them?
Like in any other profession, there is good and bad, ethical and unethical. One thing people should realize is that "the bad" are in the minority and are simply magnified as "the good" never make it to the tabloids or mainstream media. So, this is important for context as unfortunately this imbalance in exposure has created a bad name and stigma that is attached to cosmetic surgery or other non-surgical treatments. We have become too quick to demonize cosmetic/ plastic surgery as a result. But to answer your question, regardless of the above, it is important for the customer or patient to do their due diligence and educate themselves about the experience and training of the doctor they choose specifically pertaining to the procedure they need.
Today, thanks to the internet and social media where doctors can easily post and showcase before and after results, patients can be their own judge. Personally, I use all available platforms to also educate patients about various aspects of treatments with their specific indications and I respond daily to questions from patients all over the globe. This gives the patients an excellent chance to get educated. So, the information is out there. People have to simply learn how to find it. Of course, one of the most important things to consider is, after you found someone that you like based on your research, to make sure that they are board certified and in good standing with their specific board and local health department. Another important factor as mentioned above is the surgeon's experience in the specific procedure that you are seeking. For example, just because you are a plastic surgeon or cosmetic surgeon, which is a very generic training including the entire body, does not mean you are great at rhinoplasties or facelifts. A surgeon may be an excellent breast surgeon or reconstructive surgeon, but not perform many rhinoplasties. Not every plastic surgeon is trained in aesthetic or cosmetic surgery, which they layman simply wouldn't know. That's the due diligence part most of the patients with poor results that come to my office had been missing. They assume that every plastic surgeon is an expert in aesthetic or cosmetic surgery of the entire body. This is simply not possible. The good news is, as I stated above, the internet and social media have made it easier to find the "true experts" in each respective procedure.
5. How do you feel you have been reforming Americans (their lives) and those who come to see you?
Like I said above, one of the main reasons that inspired me to become a facial cosmetic surgeon, was the fact that I wanted to help my patients to regain their self-esteem and self-confidence. I genuinely care more about the psychological aspect and effect of my work than anything else. To me the surgical aspect is easy and simply execution based on past training, experience and creativity. The latter in large has to do with one's artistic eye and ability. I call it "talent".
Nothing brings me greater joy than my patient's happiness and knowing that I was able to contribute to improving their self-esteem. This is how I personally measure my success, the happiness of my patients, no matter how great I believe the outcome of a specific surgery or procedure was. That in an essence is irrelevant, and besides the point if my patient is not happy. When you come from a standpoint of empathy and genuine care, everything else tends to fall in place. To me that is the difference between happiness and misery, it goes both ways, for the patient as well as the surgeon.
6. What types of technology have you been using at your offices that differ you from others?
I was very fortunate to have had one of the world's best mentors who taught me the importance of open mindedness as well as scientific skepticism. Although I am very cautious and skeptical about new technologies in medicine, especially in today's world where every year a new company promises a paradigm shift and revolutionary device, I never jump on new technology unless I have understood the science and seen reproducible results. But one of the true revolutionary devices that has opened the door for non-surgical tightening of the facial and neck skin is the "bipolar radio-frequency device". I was an early adopter last year because I had seen stunning results in the right patient with the right indication compared to surgical results. With this device I can simply remove fat from the face and neck and tighten the skin to remove a double chin, sagging of the jowls, lower eyelid skin and neck. The beauty about this technology is that you can transform a patient within fifteen to twenty minutes without any downtime and all non-surgically. Two years ago, this was unimaginable. But like with anything else, understanding the science and indication of each technology makes the whole difference between success and failure. The confusion starts when doctors with inadequate understanding start using these devices on the wrong patient. It's like trying to cut a steak with a spoon or eat a soup with a fork. That doesn't mean the spoon, or the fork don't work, it simply means we didn't use the right tools for the right indication.
7. You also have your own skincare line, Hamrah Aesthetics. Why did you come up with your own and why do you recommend it? 
For over 10 years in practice, I had been struggling to find a product line that offers solutions that suit various skin types and problems. I frequently had to search, mix and match between many brands only to find out that some of them are not compatible or made it cost prohibitive to treat common problems like acne or aging of the skin. As a former acne patient, who was very self-conscious about my skin problem, I felt very strongly about my patient's skin problems and their struggle finding a simple solution. So, I decided to create my own skin care line to make the treatment simple, effective and predictable.  I have researched for many years to create skin care systems that are scientifically proven as opposed to just smell good or look good. I am proud to have been granted trademark rights for the "Hamrah Aesthetics" brand and most importantly to getting excellent feedback from my patients who are thrilled about their results.
8. What are your goals for NOVA SurgiCare, PC for the rest of 2021?
My goals have always been the same and will remain the same for as long as I am in practice, which is the happiness of my patients. I really don't have specific corporate goals or use any specific benchmarks if that's what you mean. My entire focus is simple: How can I find better, more predictable and safe ways to improve my patient's self-esteem and self-confidence, of course within the context of my profession. You could say it's something I am obsessed about. Sometimes this means to have a simple and frank conversation with a patient that gives them a better perspective within the right context which can be life changing. Moreover, it will prevent them from seeking another surgeon who might not have the adequate experience to recognize that a surgery is not indicated in this specific patient. I have experienced it too many times and eluted to it in my Washington Post article of March 2019 that talks about "body dysmorphia" and patients asking for surgeries just so they can look better on selfies, not knowing that selfies distort your facial proportions. So you could say my goal is to continue to educate the public using my social media platform and buy voice within the media.
9. If you could change one thing in the world, what would it be?
To teach people the power and beauty of empathy, care and selflessness. I know I mentioned three things, but they all go under the category of "Empathy"! I know it sounds like a cliche and "too easy" to be true, but if I look at all the problems we are dealing with in this world (like poverty, hunger, racism inequality, etc.), "Empathy" is simply the cure of them all. I challenge anyone to give me one problem that empathy cannot solve! With that, I am grateful to have this opportunity and platform to express my ideas and visions.