Artist's NFT Sale During A Gallery Showcase Is Game-Changing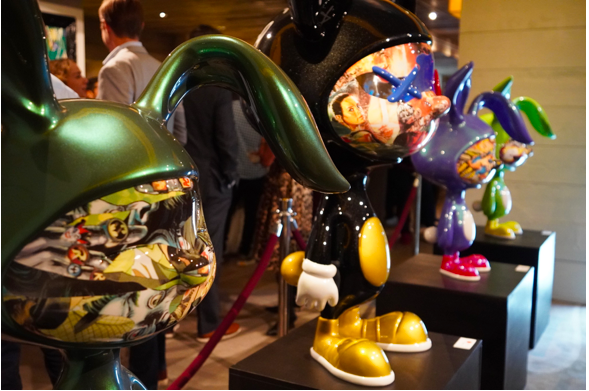 Contemporary artist Daniel Mazzone recently hosted his iconic Art Basel Miami gallery showcase, and while his sculpture collections (YUME and KUMA) and unique paintings sold in the thousands of dollars, it was the sale of his first-ever NFT that really is standing out to art collectors and those following the digital trends of today's society.
During his "Larger Than Life" showcase in Florida, the artist who used to be homeless in Toronto, Ontario, Canada, saw over 1800 gather to check out his latest work. Big names like KING PARIS, Domingo Zapata, Jordi Molla, Paolo Zampolli, The Real Housewives of Los Angeles, The Real Housewives of Miami, Lisa and Lenny Hochtstein, Marisol Nichols, Kelley Flanagan and Magda Khalifa, were just some of the VIP guests to attend.
But again, center stage at the event was his YUMI NFT that sold on the final day for $150,000. The NFT was sold to The Places Group – places.co – an exclusive-membership club which provides access to epic global events and experiences. And with membership dues starting at $1M USD, those part of the club will now receive one of the limited-edition Daniel Mazzone YUMI's to represent their membership.
In a statement to the media upon the ground-breaking sale of this NFT to The Places Group, Daniel said, "I am delighted to have started a relationship with Places and I am looking forward to completing the 100 YUMI's each of which will be unique."
The sale of an artist's NFT during an art show gathering such as Art Basel is a first of its kind, and we will most likely seeing a lot more of this across America and the rest of the world as art and the digital world combine and artists seek other avenues to expand their reach, while making money off their hard, creative works.
Simone Sestito at Places told the media after buying the Mazzone NFT:"Places are thrilled to have purchased this unique collection of NFT's. We will be presenting the unique NFTS to our members during our events in St. Barth's over New Years."