The First Ever Organic and Nutritious Breakfast Biscuits Have Hit America!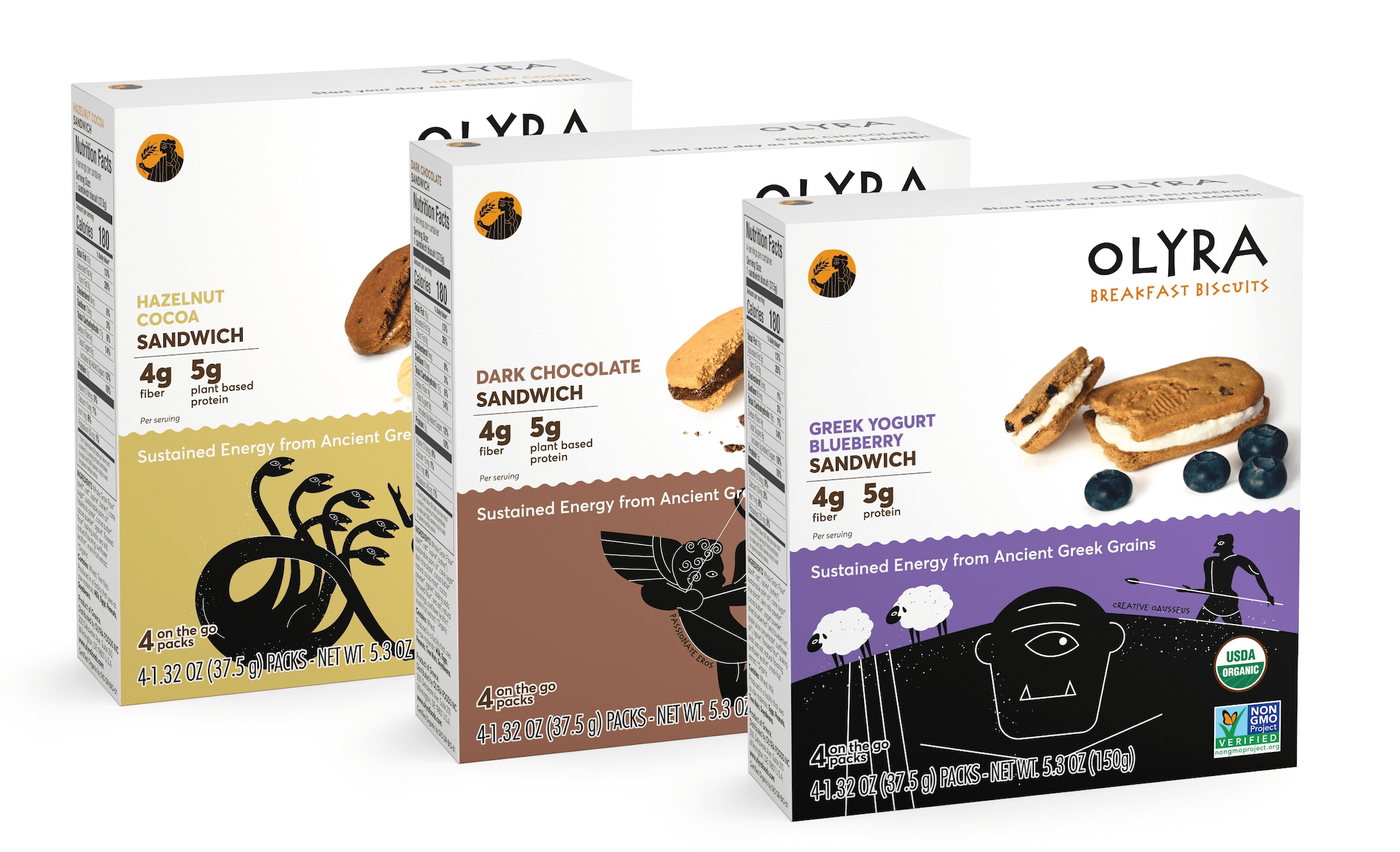 You can now start your day like a Greek legend thanks to a new healthy breakfast biscuit that has just hit shelves across the United States all the way from Greece.
OLYRA is one of the fastest growing natural biscuit brands now in the USA, as they have taken over over 5000 stores such Sprouts Market, Whole Foods, Publix, Kroger, Fresh Market, Stop & Shop, Giant etc. 
And behind the brand's massive expansion and success is Yannis Varellas, who grew up in Greece and decided it was about time to bring his family secrets over here.
Over 2600 years ago, ancient Greeks developed a very sophisticated diet which helped them nourish their creativity and sustain through battles. Since the 20th century, Yannis' family has been milling grains, and those same fields are used today for his OLYRA biscuits. For five generations, love and dedication to their lands and crops is inherited from one generation to another and Yannis spoke to us exclusively about it all!
1. How does it feel to become the fastest growing natural Breakfast Biscuits brand in the USA?
Proud and rewarding to see our team's hard work pay off. The past four years we have worked hard to deliver a product that is uniquely positioned to give our customers a snack that is tasteful, good for them and convenient to accommodate their busy yet balanced lifestyle. We have not stopped though, we are always looking for ways to innovate and bring new products to this category, always keeping in mind the foundations of what products are made of and what customers are looking for.
2. Since the 20th century, your family has been milling grains in Greece. Explain the difference between the process in Greece to how those in the United States mill their grains, which obviously have set your products a part? 
Since the 19th century, my family has been milling grains. For five generations, love and dedication to our lands is inherited from one generation to another. Working closely with a community of farmers, we grow the same grains in the land of our ancestors. Our grains are traditionally stone-ground.
What sets us apart it's not only the process of how we mill those grains but what grains all our products have. OLYRA biscuits are a perfect blend of 4 ancient grains: Spelt, Lupine, Oat, and Barley. These were the foundation of the ancient Greeks' diet. 
3. How has the pandemic shifted or changed the way you do business overall? Or has it not concerned you at all?  
We have always had a remote first approach, even before the pandemic, given most of the team is based in Greece, yet our products are sold in the US. However, being forced to work from home, and when traveling was banned, we had to figure out additional ways to optimize how we collaborate as a team. So that brought a lot of efficiencies on how our team works (from production to execution)
Additionally given our products are sold primarily on Retail, and retail was challenged during the pandemic we used this time to evolve our eCommerce channel and use this time to understand better our customers and perfect our products.
4. Why do you believe that it is important to ensure your products stay Vegan and be all-natural and nutritional?
We aim to produce products that promote a balanced nutrition and lifestyle. Our products are organic and nutritional because we know this gives you the foundations to have a healthy and well-balanced lifestyle. It's the perfect solution for your modern, energy snack needs. Every pack offers 5 grams of protein, 4 grams of fibers, and only 6 grams of sugars. Sustained energy with organic and simple ingredients! 
5. What was your first major US-based store account, and what strategies have you used since to now expand nationwide?
After 2 years of development, we crafted our first product batch at the end of 2017, so we had to bring the product to shelfs, but we did not know how the root to market works. In the US 90% of stores are chains and 10% and independent. In NY, the analogy is the opposite, 90% are independent stores and 10% are chains, so our founder moved to NY, in January of 2018, where he went door-to-door and sold products to independently owned grocery stores. The acceptance rate was incredible, in just 30 days OLYRA was placed in 50 stores in NYC. Soon enough we realized that this model wasn't efficient. We had to scale in order to make unit economics work, so we had to focus on chains rather than independent retailers. Most chains across the US are serviced by 2 large distributors but to onboard with them you need to get a commitment from an anchor account. We will always be grateful to Stop & Shop that took a bet on OLYRA products. We have been growing by sharing our track record to existing distribution. Moreover, we are innovating and growing the breakfast biscuits category. 
6. In your opinion, how has OLYRA helped to reform America/Americans and the way they eat their breakfast/snacks?
In 2001 the natural, organic, and functional Food & Beverage market in the USA was $1b and today it is more than $180 billion with an average yearly growth of $10+ billion. Moreover, consumers in the USA are looking for breakfast snacks that fulfill three major pillars: convenience, good-sustained energy, and of course mouthwatering taste. The problem is that most breakfast snacks contain a lot of sugar with many ingredients that usually consumers do not understand. Our OLYRA breakfast biscuits address this need, and we are confident that as our business expands, we will see more Americans look for convenient yet healthy snacks
7. Anything further you'd like to promote or tell us about new and upcoming products from OLYRA for our readers?
We constantly look for opportunities to bring healthier, yet organic and convenient snacks in the US market. We are planning to launch our newest products in early 2023 with a snack that follows the same guiding principles of: "sustained energy from organic and simple ingredients that promote a balanced lifestyle". Currently our family of products consists of crunchy breakfast biscuits and sandwich breakfast biscuits. We are excited to share that in January of 2023 we will launch the first filled breakfast biscuits; a crunchy breakfast biscuit with a creamy filling. They will come in 3 flavors: peanut butter cream filled, almond butter cream filled and double chocolate. We look forward to sharing these mouthwatering but nutritious products.