RapidScreen Temperature Kiosks Are Scanning Americans Back Into Work Safely!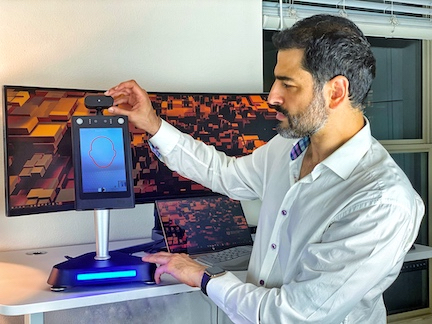 The novel Coronavirus (COVID-19) has taken over 2020 with the number of cases continuously increasing daily. Whether you're self-isolating, starting to venture out, trying to reopen your business, working from home, trying to travel somewhere or just simply anxious about what the future might hold, the chances are that the coronavirus has been a part of your life in some way.
With Americans told to social distance to help ease the pandemic and contain the outbreak, businesses are slowly starting to reopen, with strict orders and FDA guidelines to follow in order to keep their staff and customers safe. And that is where the innovative RapidScreen Thermometer Kiosk, a cutting edge advanced artificial intelligence thermo-imaging technology thermometer / facial scanning system, comes into play. Businesses including the Four Seasons, Johnson & Johnson and many others have turned to the device to screen both employees and customers for their temperature, face masks and other symptoms related to COVID-19.
Behind the contactless kiosks is Pouya Hashemi, a COVID-19 survivor himself, who spoke to us about RapidScreen and how his product is changing America for the better these days!
Why did you decide to create the RapidScreen device, and how long have you had this product idea for?
As the pandemic started to affect the world, I found that my business needed to adapt. After falling ill myself, with COVID back in January we made it our mission to pivot the company to help other businesses reopen safely. While recovering at home and working with the SpinTouch team virtually, RapidScreen Temperature Kiosk came to life. Developed with the latest innovations in Automated AI Temperature Screening Technology, RapidScreen is the fastest and most cost-effective way to protect customers and employees.
What sets your product apart from others, and why is RapidScreen such an innovation in its category? 
RapidScreen is designed to help businesses reopen efficiently and in a cost-effective manner. Our temperature screening device is 2 times more accurate than most competitors. There is no need for manual labor, simply have users stand within 3 feet of the device to activate. We use the latest innovations in technology such as AI face detection using the latest 3D camera sensors, and the Heimann Sensor, the world's leading German technology in infrared thermopile arrays. These features and many others, set the RapidScreen temperature kiosk apart from others.
What main things can the software and facial recognition detect? 
With RapidScreen, companies can now check the body temperature of individuals prior to entering their facilities in order to limit access to those with a fever. Utilizing features such as our facial mask detection, companies can also mandate mask requirements. Using our facial recognition technology, RapidScreen can sync with automatic doors or ticketing systems to restrict access to those with a high temperature check or users who are not registered in the system. We are also working with other software partners to integrate the CDC required survey questionnaire for employees returning back to work.  This feature would screen employees prior to them heading into the office, which further helps with the prevention of spreading contagious diseases.
How easy is it for a company to use your device with their employees? Does it work for all States and their guidelines, or which ones?
It's extremely easy, setting up the device takes a few minutes outside the box.  Simply plugging the device into the wall will start up the thermometer and you can rapidly scan individuals as they approach. The FDA recommends utilizing thermal screening systems such as RapidScreen, to safely reopen businesses. Our Automated Temperature Kiosk also adheres to EEOC and CDC's official guidelines.
What major companies have been using RapidScreen?
A couple of our initial orders went to companies like; Johnson and Johnson for their office entrances, Four Seasons Hotels, a couple state agencies, and multiple school districts.
How has Artificial Intelligence technology changed over the years in your opinion?
It has become more prevalent in our day to day life, used for both good attributes like remembering passwords, as well as used for controversial tracking and monitoring.
We primarily use AI to detect the location of a human face that is near the camera.  Once detected the lights come on and an audible voice directs the user towards the device to be scanned.  Without this technology, it would be difficult to be able to tell between a person's face and any other object in front of the sensor. Also our software is able to determine whether an individual is wearing a mask or not. I personally would rather be reminded to wear a mask by a display at an office building entrance, than an intimidating armed guard. 
What do you say to people who suggest products (and AI overall) that scan faces and detect certain things is in a way a breach of privacy? 
Yes, there are always people that are concerned when they hear AI or facial recognition.  However, to the capacity we are utilizing this technology, it's very similar to how smartphones use this today, to detect a specific user and log them in for the day. Also this particular feature of the device needs to be enabled and acknowledged by every individual prior to being activated for them. I would compare this to payroll clocking systems that take biometric thumbprints, but now it's more of a contactless system. Speaking of that, we also have the ability to integrate the device to work with platforms like ADP and other systems.
How can a company sign up right now to get a RapidScreen installed?
They can visit our product website to learn more about the thermometer sensor kiosk and how to order: https://www.spintouch.com/rapidscreen/