Moroccan Book, Sneaky Showbiz, Receives Positive Reviews from American Readers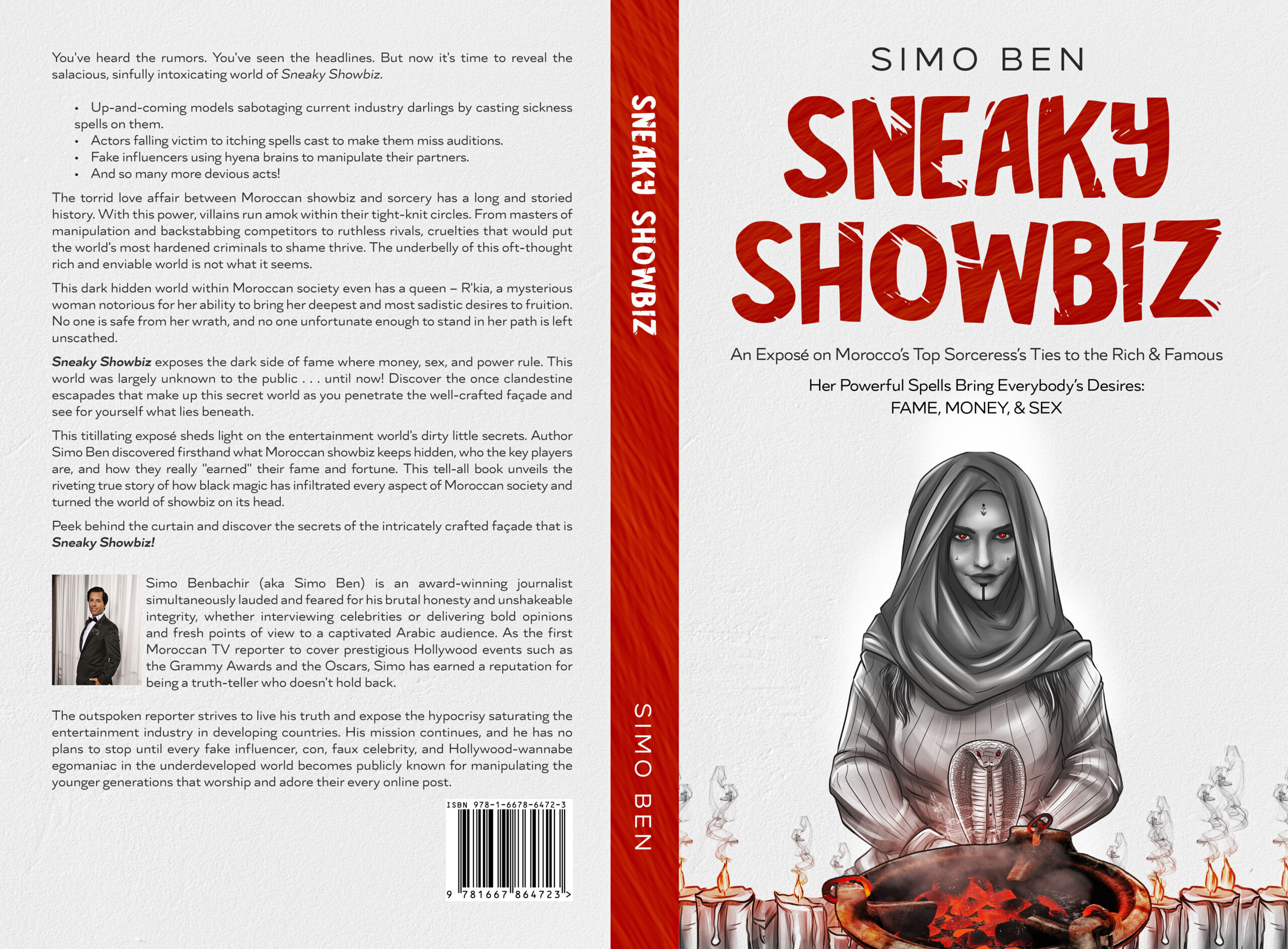 As a reporter, I love new books and I love traveling and recently, I came across this book on Amazon, a platform that isn't known for having a ton of Moroccan authors. Sneaky Showbiz, an exposé about how Moroccan celebrities use witchcraft to make it in the entertainment industry, reveals the tricks that celebrities use backstage. From backstabbing to sickness spells, what these celebrities will do to each other has no limits. Before I read the book, I decided to go through the reviews, especially reviews written by Americans and other native English-speakers who are less familiar with these practices. 
Below are some of highlights from my tour online, starting with a selection of authors from Reader's Favorites:
Renowned Canadian author and Reader's Favorite reviewer, Viga A. Boland:
"Picture using a corpse's hand to stir the popular dish of couscous to close a husband's eyes to a cheating wife. Yes, Moroccans…many of whom are Muslim… believe that works. Or how about adding corpse water to someone's coffee? Why corpses? Because 'Everything that surrounds a corpse is priceless in the world of magic.' "
"What is even more astonishing is the hypocrisy of Moroccan society, a factor that repulses both R'kia and Simo Ben. For instance, while virginity is highly prized and demanded of young women by their families, prostitution is rampant! And if anyone thinks the families aren't aware of what their daughters do at night, think again. With such high poverty, for far too many it's the only way to eat and pay rent."
Reader's Favorite reviewer, Vincent Dublado:
"Where he comes from, celebrities don't slap each other onstage as they do in Hollywood. Instead, they cast black magic spells on each other backstage. He invites you into the world of Moroccan show business, an industry rife with villains who have mastered the arts of manipulation, backstabbing, jealousy, hate, rivalry, and cruelty."
Reader's Favorite reviewer, Foluso Falaye: 
"The book not only uncovers the fascinatingly dark realm of sorcery but also provides an unvarnished and unabashedly aggressive portrayal of Moroccan society, discussing hypocritical social customs and the numerous explicit and hidden horrors."
"Simo Ben's bravery astounds me, speaking his truth and revealing the reality of celebrity behavior in this social media era, despite a threatening backlash from online trolls and religious extremists. He conducts a detailed investigation of conflicting opinions on a variety of issues in Morocco, including prostitution, taboos, alcohol, religious events, sexual abuse, virginity, fraudulent models, and homosexuality."
Reader's Favorite reviewer, Essien Asian: 
"By the time you are done reading this book, I am pretty certain you will not look at couscous the same way again. Sneaky Showbiz is a long-overdue book. It's about time someone exposed the underhanded habits of the unscrupulous individuals in the industry, and no one does it better than Simo Ben."
The reviews are also going wild on other book platforms throughout the U.S. such as Barnes & Noble:
"You have to have a strong stomach to get through this book! The graphic descriptions of black magick rituals and sexual debauchery will make your head spin!"
"The author pulls back the veil and offers readers a rare glimpse into a strict, conservative Muslim culture and simultaneously delivers a scathing critique of modern Moroccan society in the process. The extreme poverty, the religious oppression and hypocrisy, the oppression of women, the oppression of lgbtq+, and the political corruption- even down to the most basic levels seemingly forces powerless people to do the unthinkable to improve their circumstances."
One last review by Chris Saucier to wrap up my tour of reviews:
"The author's voice is truly magical (pun intended!) in the way that his conversational tone weaves the stories together and makes it feel as though the reader is in the room with the author. Simo Ben's connection to the story's main sorceress creates playful back-and-forth dialogue that will make you laugh, shudder, and at some points wince as they discuss the harsh realities that are connected to the seedy entertainment industry."
I foresee success for this book in its specific genre and more positive reviews to come.