Vigilante's collaboration with Zaxby's solidifies his relationship with Gage talent agency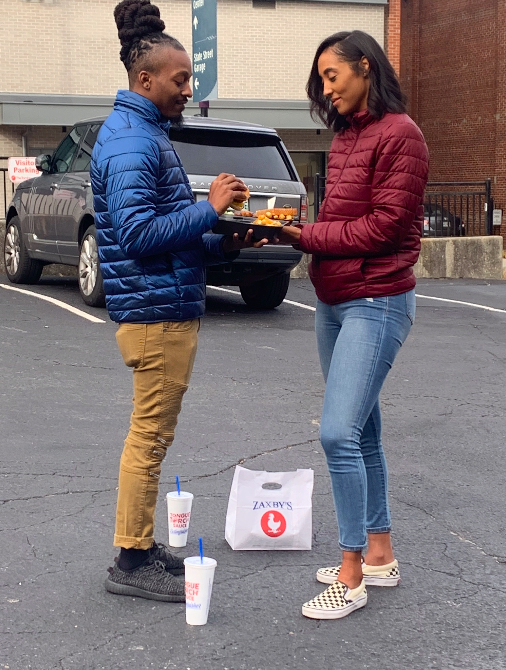 It's become normal for the biggest opportunities to be presented to Vigilante in the strangest ways. He's learned to embrace it. There are 10 main forms of modeling and out of those Vigilante always thought commercial, fashion, promotional and or print would be his introduction to the modeling industry. After signing to both Gage Talent Agency and Premiere Modes and Talent Agency Vigilante knew it was only a matter of time before his first official model booking would come to past.
Premiere Agency is very upscale and requires new comp cards via the in house photography upon signing. Do to this fact Vigilante knew it would be at least a few months before he got a booking with them. In the mean time he was building his working relationship with Gage. Gage would often send auditions that require photos to be sent back to complete the booking once accepted. Out of the blue Vigilante received an email about a zaxby's commercial. This particular booking required Vigilante to send regular everyday (non professional) photos. Vigilante received this email while driving so he drove to Zaxby's and submitted photos of him eating and drinking displaying the Zaxby's logo. The producers loved these photos and asked for close up photos of Vigilantes hands. This news promoted Vigilante to go to the nail shop for the first time and get a professional manicure. Shortly after sending in these photos Vigilante was booked. Well at least his hands were. Hand modeling was not the way vigilante thought he would start his professional modeling career but he was not against it at all.
Less than a month after filming as the lead role of Michael in the upcoming Netflix project Vigilante found himself quadruple booked in Tennessee. His first booking being Killer Couples, then For My Man, followed by In pursuit With John Walsh and lastly the booking that blew his mind Zaxby's. Vigilante became a master of getting himself and friends booked on the murder reenactment shows but had never been booked this closely for multiple murder shows at once. His In Pursuit booking ended up getting cancelled. For My Man was a successful show and so was Killer Couples. Saving the most unique booking for last. "Working with Zaxbys was truly an honor" saids Vigilante. " I can remember being on set with my co-star, having the camera hanging over our heads and waiting for then to start not knowing they were taking photos the entire time." Spending less than 3 hours on set with 3 outfit changes was a foreign way of productivity to Vigilante when it came to set. Traveling from Atlanta to Tennessee Vigilantes fashion had the entire film crew raving. They even remembered him from his submission with the products in hand.
After leaving Tennessee Vigilante felt so accomplished. He had no idea when the photos would be ready to uncover to the public, where they would drop or how but he knew he would find then regardless. He had heard on set that they would most likely be used on Zaxby's social media page so he turned on the push notifications. Less than a month later Vigilante received a notification that there was a new social media post on Zaby's page. He clicks on it and sees his hands holding the product in the photo.
Vigilante looks forward to working with more brands and even blending his with then as well.
Tune into Vigilante's Instagram account @Vigilantelom for inspiration and to keep up with everything in his career. Also follow him on Snapchat and Twitter @VigilanteLom to keep up with how you can contribute in his community acts. In you want to catch up on all of Vigilante's music, interviews, promotional visuals for his upcoming movies and advice on how to make it in the industry on his YouTube at Youtube.com/VigilanteVisuals.
Instagram/Twitter/Snapchat: @VigilanteLOM
YouTube: Vigilante Visuals
VEVO: VigilanteVEVO