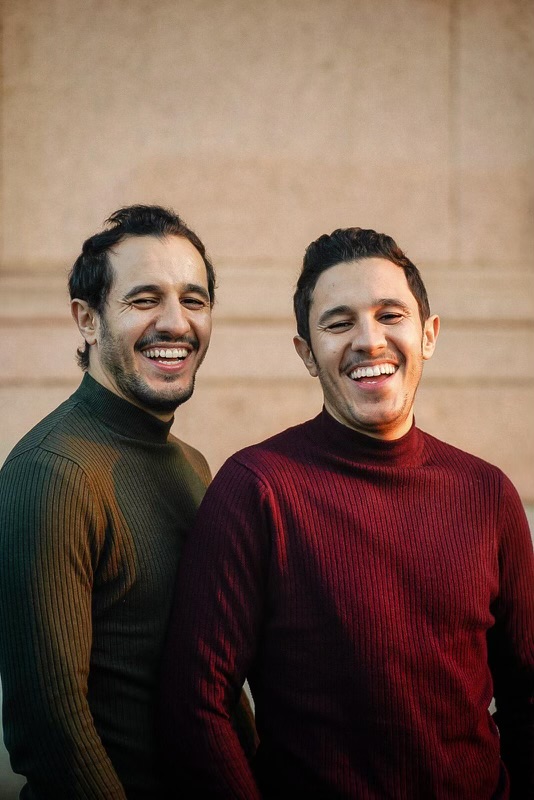 Before being movie directors and producers, Samir and Hicham Harrag are twin brothers and that is not a detail. Not only is their twinning a strength in life, it has become the signature of their projects in the movie industry. 
Les Twins, as their friends and colleagues like to call them, were born in Paris in 1984 and raised in a modest family in the Parisian suburbs. As long as they can remember, they have always loved to tell stories and create all sorts of characters and fantastic worlds. Their first time at the movie theater was a life changing event. On that day, they knew without the shadow of a doubt that they would dedicate their energy to pursue their biggest dream : making movies and sharing their stories with the rest of the world. And so they did.
After attending the notorious Cours Florent in Paris to strengthen their acting skills, they collaborated as actors for major French productions. Finally, they decided to work on their own projects and in 2014 they founded their production company : Studio Ciné Magueule.  Their first short movies Sacré Cœur (2016) and Nhel Cheitan (2018) were instant successes despite the limited budgets. Both were selected and awarded in major French and international film festivals, amongst which the prestigious Festival de Cannes Short Film. 
While making movies, the twins kept improving their acting skills and took the Actor's Studio courses in Paris led by Joël Bui. In 2021, they shared the top of the bill of the French movie Compatible and were part of the cast of famous French directors Kim Chapiron's and Ladj Ly's upcoming feature movie. The latter has directed Les Misérables (2019) which was an international success.
The Twins' third short movie, Grand Gaillard (2021), showcases another side of their skills as writers and directors. The movie was awarded numerous prizes accross the world, such as the Jury Award at the prestigious London LAHFF and the Stockholm Independent Film Festival. Their projects total more than a hundred nominations and fifteen major awards worldwide.
For each project, the Twins showcase a strong commitment to deliver a message and they communicate with their audience through a wide range of emotions. Their films are particularly appreciated for their authenticity and for the energy and passion that transpire and that reflect the Twins' DNA. Team work is also one of their core values and part of their success. Currently, the Twins are working on the feature movie Grand Gaillard, new short movie based on their own story and a project based on the Cambodian history. 
A few months ago Samir and Hicham have stepped foot in the USA to receive more awards for their work. Grand Gaillard was granted the Meihodo New York Film Festival Silver Award (hosted by Michael Douglas and Juliette Binoche) and the first place in the Annual Shadow Short Film Competition in San Francisco. Could that be Hollywood calling ?