Songwriter manager Lucas Keller reveals the process to making dance anthems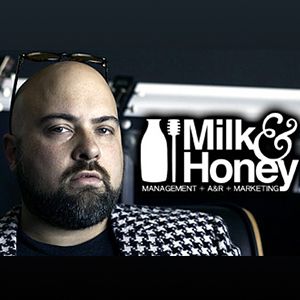 Milwaukee born-and-raised Lucas Keller is the talent manager behind the songwriters and producers who make hits for the superstars. 
In 2014, his agency, Milk & Honey Management, was founded in his living room with just one client. Today, he has 13 full-time staff and an impressive roster of more than 50 clients featuring A-list songwriters/producers like Oak, Sir Nolan, and David Hodges, alongside international touring DJs like Oliver Heldens, Hook N Sling, and many others.
The Hit Making Strategy
" People don't understand how long it takes to create a radio hit," Lucas says.
Even the best songs need a well mapped-out strategy to propel them to hit-status. Lucas works with a wide array of producers such as Max Martin and Dr. Luke to figure out today's hit formulas and what people are looking for in pop culture at any period.
Lucas claims, "Often, what the artist thinks should be on the radio probably won't end up on the radio. The key is having a circle of mainstay songwriters and producers. It's not just the song's production; it's coming up with the song and a concept, and letting the producers take it from there".
The second part of this process is managing the artiste/DJ angle. Lucas and his team collaborate with several artistes to come up with sure hits while staying true to their sound and brand. What follows is a 24-month release plan in the U.S, then the rest of the world hears the song.
Challenges and the Forward path
Streaming services have reinvented the music industry, breathing life and money back into the business. However, there is a two-sided effect to the impact of streaming. On one hand, it has created a leveled playing field, so new artists can now have a hit without radio. Likewise, even established artists can have multiple songs that aren't radio hits and not be in trouble. Artists can survive and thrive without having back-to-back hit music. However, the same does not apply for songwriters.
Songwriters don't make a lot of money if the song never goes terrestrial,  even when their work gets as much as 500 million streams. Many songwriters are now wanting deeper participation in industry matters, and expressing their need to be rewarded for the hits they create.
"Levelling things out involves changing a lot of deals with labels. So far, the Music Modernization Act passed through committee has also brought a lot of positive changes to the industry."
Is Millk& Honey the next BIG thing?
In only 6 years, Milk&Honey has grown at an impressive rate. The agency has offices in Nashville, New York, London, Amsterdam, and a global headquarters in Los Angeles. Their clients have sold over 400 million records, and received credits on top songs including Nick Jonas' "Jealous", Alessia Cara's "Here" and "Scars to Your Beautiful", Selena Gomez and ASAP Rocky's "Good for You", James Arthur's "Say You Won't Let Go", Demi Lovato' "Sorry Not Sorry", and many other chart-toppers.
The burning question now is how much higher Lucas wants to go. Here is what he has to say.
"The really firm answer is that I want to be the best mid-sized management company there is. I decided that Milk & Honey would stop growing when it reached a certain point where I would not be able to work with everyone anymore."