From a Life of Crime to a Life of Coaching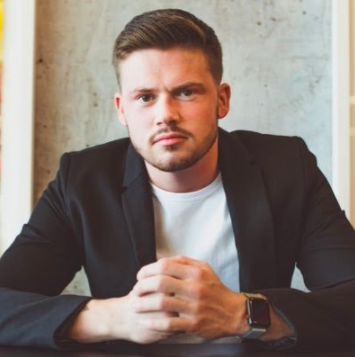 The 27-year-old was a troublemaker who was always committing senseless crimes and getting into fights. He spent much time in prison, drank heavily and took drugs.
Now, he has turned around his life and set up a life-coaching business to inspire people to success. But how did he achieve it?
He says: 'I have always done good and bad in my life. I have always wanted to do well but my behaviour held me back.'
When he was younger, Lewis, from Landport, Portsmouth, was diagnosed with an emotionally unstable personality disorder and also suffered from bipolar disorder.
'It was obvious my environment and my behaviour were causing these issues for me.
'I was in trouble with the police from a young age, about 12 or 13. My dad was an alcoholic and my mum was a heavy drinker.
'They were there for me – but not on an emotional level. As a result I had low emotional intelligence. I didn't have the opportunity to explore my own feelings.
'I was doing the silliest of crimes like smashing windows for no reason. I started drinking a lot which led to drugs. I had a lot of anger from a number of things. I would react to all emotions through anger and that would get me into trouble.'
By 18 Lewis was in a young offenders' institution. By 24, he'd been in prison three times with two accusations of GBH to his name. 'I did have times where I managed to hold things together,' he adds.
'Many things that held me back were things from my past. I was scared of failure. I didn't want to push myself for fear of rejection.'
In prison Lewis went to the education department and did some maths and English. 'I had anger towards myself when I didn't understand something, so we sat down and worked out what I was struggling with.
'I got on track with the work and absorbed lots of information. I did some basic qualifications.
'I asked my tutor if she thought I could get to university and she said yes. That was the first time I heard somebody give me that support and belief.
'I left school at 16 with no qualifications without a thought there was any other path for me.'
Lewis joined an intensive rehabilitation programme to get past his addictions. 'I decided I needed to change.
'It was a real wake-up call. I needed something else, but I didn't think I was capable of changing anything.
'I didn't think my drinking was as bad as it was, but every single crime I committed was under the influence of alcohol.'
Lewis, who grew up in Watford and was in prison there, was brought to Portsmouth where he attended the rehabilitation centre. 
It was a three-month intensive programme where he was isolated from the outside world for constant, 24-hour therapy.
'It was horrendous mentally but the best thing I've ever done. It exposed everything that had gone on with me and taught me so much about myself and how I was feeling. 
'When I left that place I felt like a new person.'
He did another three-month programme and started going to Alcoholics Anonymous and narcotics meetings. 'I felt things progress very quickly. I realised I was very capable.'
By that point, he had settled in Portsmouth. 'I had to remove myself from where I lived and my friends and give myself space from my family and allow myself to develop into who I wanted to be.'
His business, The Hunger Start, is about inspiring individuals to help them become successful.
Lewis is getting ready to go to university in September to study business management. 'I'm excited about that. Every day I see myself progressing,'
He is also spending the summer travelling around south-east Asia for 10 weeks with his girlfriend.
His life is a whirlwind away from where he used to be. 'I just used to drink, take drugs and fight. That was my life and it was chaotic. I couldn't get past a weekend without falling back into my old ways again.
'Now, I don't drink or use drugs any more. 
'A lot of people were concerned that I would die young. I had no regard for myself. I don't recognise my past life any more. I have come so far that I no longer connect with it.
'I never thought I could go this far. I'm not the same person. I think this is the real me now.'
LEWIS LEADS BY EXAMPLE AND INSPIRATION
Lewis Raymond Taylor went to college, studied an Access to Business course and a distance learning coaching diploma. He also started volunteering to support those suffering from substance misuse. 'I wanted to offer support and show people what was available in Portsmouth,' he says.
'I wanted to bring everything together so everybody could go to one place to find everything they needed in terms of motivation, inspiration and empowerment. I started life-coaching people for free.'
This led to his business The Hunger Start, designed to inspire and motivate people who might have come from a troubled background or simply need help building their confidence and inspiring them to success.
He is now a qualified and accredited life-coach. 'It's about motivating yourself and focusing on your goals,' he says.
'We speak about how their week has been and look at what has and hasn't worked for them. I want to offer something that's available to everybody. We will provide that motivation to drive yourself and move forward. Primarily, it's about the motivation to go out and change things about your life.'