Erik Goca showcases a stay at home performance with American touring guitarist Mark Bouras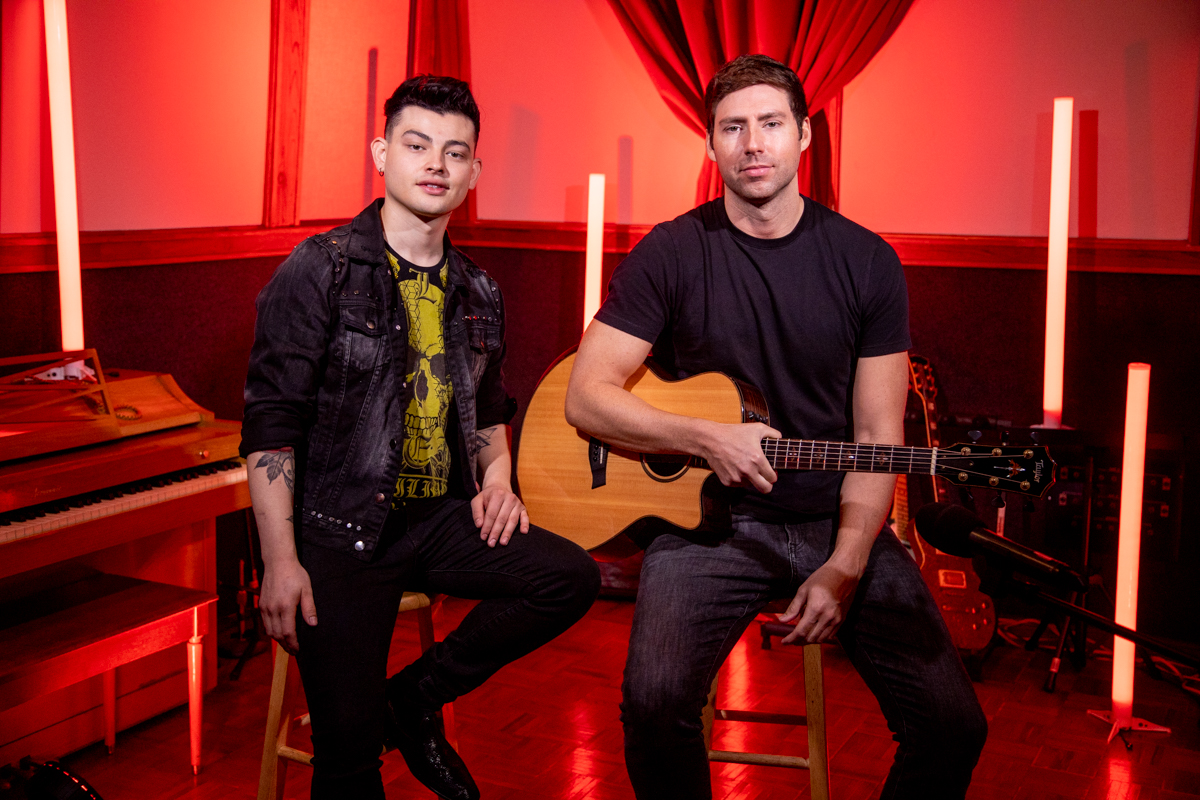 American musical artist Erik Goca from Los Angeles California known for his recent hit single "COLLIDE", goes back to 2020 to recap and talk about the stay at home performance he posted on social media for his followers in collaboration with American touring guitarist Mark Bouras.
Mark Bouras is an accomplished session and touring guitarist. Skilled in electric, acoustic and bass. Experienced in songwriting, arranging, and composing music for television and film.
Touring with 98 Degrees for the "36 City Christmas Tour", Mark Bouras has also performed live for the American Music Awards with artist Dalex and more of his artist live performances list includes:
Tommy Tutone, Rick Derringer, The Romantics, Starship, Kool & The Gang, Jan & Dean, TJ Doyle Band, Ellerman and Pray of The Fallen.
Mark Bouras earned a film credit by composing a musical piece called "The Initiation Of Sarah" and has a number of endorsements by music companies such as Cordoba Guitars, Taylor Guitars, Bogner Amplification, RMC Effects, MXR Dunlop, Strymon, Elixir Strings and SKB Cases. Such recognition lead him to a great sponsorship by British music amplifier manufacture company Marshall Amps.
"I'm glad Erik and I were able to get together and collaborate. Erik is such an incredible singer, the video performances were perfect from the first take. The acoustic sessions were a great start, I hope we can do some full band arrangements next."
Mark Bouras stated.
The stay at home performance showcases two song covers, "Perfect" by renown artist "Ed Sheeran" and "Creep" by English rock band "Radiohead".
As we know Erik Goca expresses himself through music so he decided to reach out to Mark Bouras to have an acoustic session and put it on tape.
Erik Goca and Mark Bouras met at "WAX LTD Studios", in Los Angeles California to record the session.
WAX LTD Studios is the American multi-platinum music production label signed exclusively to Killer Tracks which is part of the Universal Music Group formed by Wally Gagel and Xandy Barry that have collectively and individually worked with a wide variety of artists including Miley Cyrus, Rihanna, Britney Spears, as well as Muse, The Rolling Stones, New Order and many others.
Recalling the day of the session, Erik Goca shared with us his experience on his own words:
"I had a blast working with Mark, we rehearsed a couple of times before recording the video. We decided that it would be best if we made the performance organic from start to finish and we nailed it".
"Mark is a professional guitarist and adapts quickly, he knows what he is doing and it's always refreshing to have an acoustic session with live instruments, makes the experience much more enjoyable". Erik shared.
Watch the stay at home performances by Erik Goca and Mark Bouras on Youtube by clicking the links below.
Erik Goca X Mark Bouras cover "Perfect" by Ed Sheeran:
Erik Goca X Mark Bouras cover "Creep" by Radiohead:
Follow Erik Goca on social media:
Instagram: @erikgoca1
Twiter: @gocaerik
Tiktok: @erikgoca
Youtube: @erikgoca
Follow Mark Bouras on social media:
Instagram: @Markbouras
Listen to Erik Goca's hit single "COLLIDE" on Spotify
https://open.spotify.com/album/7hKaKJFZajpydxEgLWUCrq?si=4b9RAi9KTluhxKWlOzaGwg